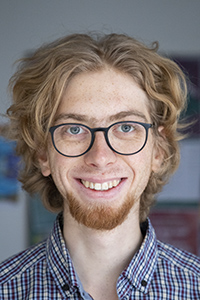 Miksa Gáspár
Favorite quote and why?
"Man is the measure of all things." (Protagoras)
To be born as a human being is a privilege that is not about shaping the world according to our own desires but to change with the world. Since at Bard Berlin we are discussing the most crucial challenges of our age - which could seem way bigger than us - I find it very important to underline what Protagoras said, that these issues are in a way our personal challenges as well.
Why Bard College Berlin?
Bard College Berlin seemed to me as a laboratory where I can explore my motivations and myself further. I spent a lot of my free time during high school participating in different activities; working with people on projects we are all very motivated about creates the greatest kind of community. I thought here at BCB I will find everything to develop new ideas or my current ones further: a colorful and open-minded community and place for experimenting. I chose BCB to challenge my ideas, and I am delighted to see that others are doing the same.
How would you describe our community in a nutshell?
BCB is a source of personal motivation for every student, but these sources differ greatly. What is very nice in our community is that, even though we are all strong individuals, we can channel our diverse motivations and opinions into discussions. For example for me lunchtime is not only about eating but sitting with other people, teaching and learning from each other even unintentionally by chatting over the food.
You favorite place to study on campus?
I love the garden behind our residence halls, as I can sit in nature surrounded by the chirping of birds and also hear people entering and leaving our buildings. It is a little bit like sitting at the border of two worlds.
Are you involved in any student clubs or organizations?
I am a member of the debate club as well as the Lingo 101 French class. I also participate occasionally in the meetings of StuPa and BCB Goes Green. I am running my own discussion circle since the beginning of the semester called
Let's Jew it
.
Your favorite thing to do in Berlin on the weekends?
I love to wander around in the suburban areas of Berlin on my bike.
What surprised you the most about BCB?
The level of involvement in classes from both students' and teachers' side turned out to be a lot higher than I have ever thought.
Favorite book you read in a class?
Ahmed Saadawi's book called
Frankenstein in Baghdad
.
Write briefly about one of your courses that left a lasting impression on you.
This semester I am taking a course called Introduction to Critical and Cultural Theory that I nearly dropped at the beginning of the semester because I barely understood a word from it. We are reading challenging essays and studies related to the history and the philosophy of art beside many other topics, which I found too complex for me to understand with the background knowledge I had. When I went to my teacher, she encouraged me to read the scientific texts in a personal way, which gave me the key to understanding every text - if not in their full complexity, but at a certain level. I got back to some of the articles during midterms and surprisingly I understood them a lot better than before. This course showed me that just by becoming a more experienced reader, my understanding will develop as well.
Plans after BCB?
I would like to find a grad school where I can continue learning the theory and practice of arts simultaneously, as I do it now at BCB. In this very moment, I can imagine myself as one of 21th century's new writers, who is not just writing but is also actively involved in the issues surrounding him/her. On an even longer term, I would like to go back to Hungary and try to urge (political) changes by motivating people through the arts to participate more actively, for example in politics.
What does a liberal arts education mean to you?
I cannot define it in one sentence. Liberal arts education is on the one hand a broad scale of opportunities in a variety of fields and in a variety of topics, and on the other hand a way of studying in which you have to personally get involved. A liberal arts education is a process of constantly pairing up one's opportunities with one's interests. However, a liberal arts education is not only about living with these opportunities but also about creating ones for others. In contrast to the world today, liberal education is based on giving, on surpassing what we receive and not on reserving knowledge for ourselves.