BCB and Sammlung Scharf-Gerstenberg cooperate on Goya exhibition as part of the initiative Eine Uni ein Buch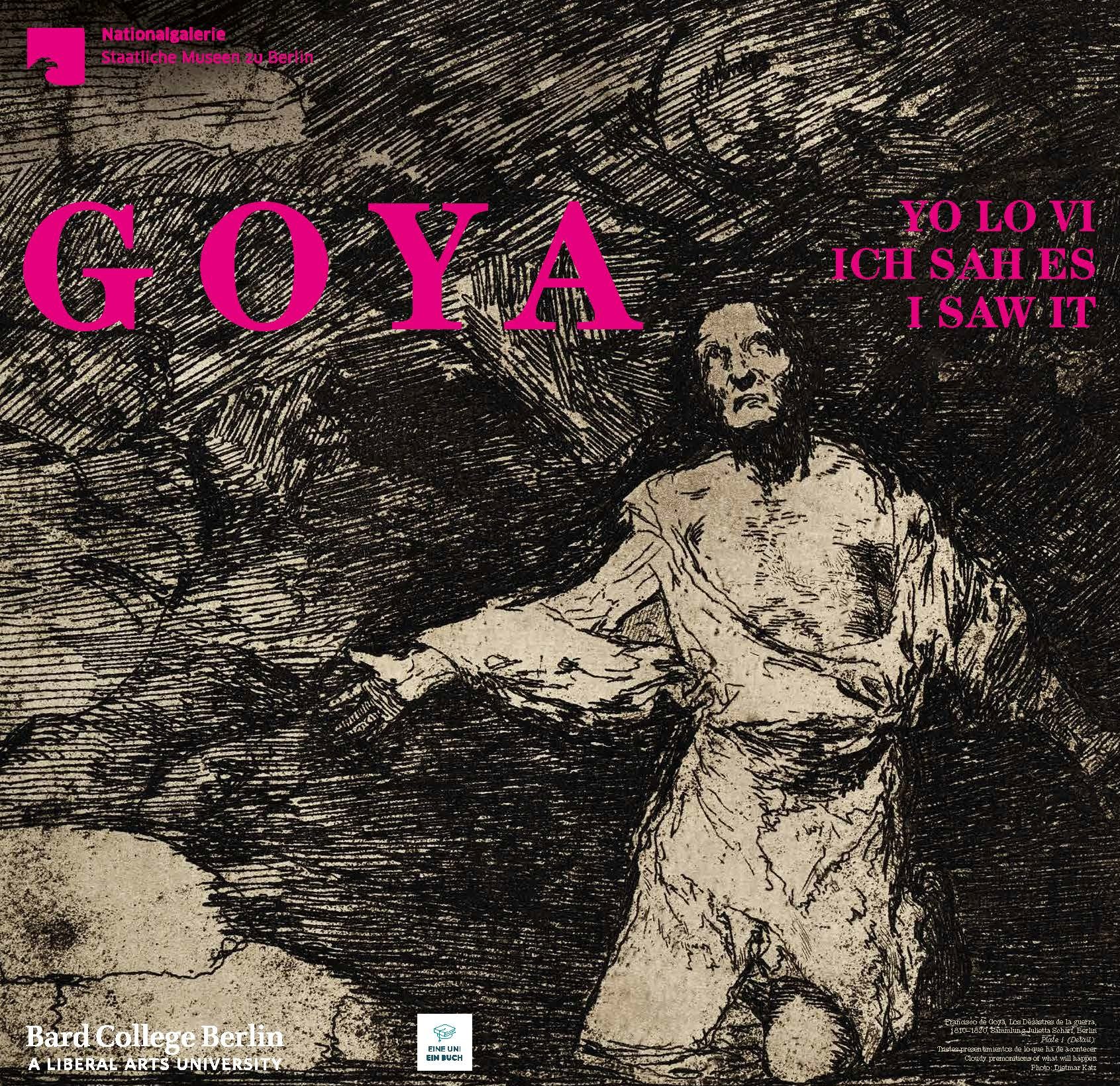 In March of this year, Bard College Berlin was one of the ten universities that were selected by the Stifterverband and the Klaus Tschira Stiftung to receive the
Eine Uni ein Buch
(One University one Book) award. For BCB, this is a 100% award success rate: thrice the college applied and all three times we triumphed. In 2017, the book of reference was Plato's
Republic
, in 2018 we applied with Mary Shelley's
Frankenstein
and this year, in a bold and daring move, we proposed a book that was in every sense extraordinary: Francisco de Goya's
Los Desastres de la Guerra ('The Disasters of War')
, a series of 82 prints in which the artist depicted the atrocities of the Napoleonic wars in Spain. The series was published in a bound format in 1863, 35 years after Goya's death.
The heart of the project is the exhibition of a copy of Goya's
Les Desastres de la Guerra
book, together with three additional series of prints that appeared in a bound format -
Los Caprichos, Los Disparates
and
Tauromaquia
- and single works on paper by the artist. Simultaneously, large projections of the individual images from
Los Desastres de la Guerra
as well as
Los Caprichos
will be shown, providing a unique opportunity to see each print represented in the series in a larger-than-life format.
Goya Yo lo vi – Ich sah es – I Saw It
takes place at the Sammlung Scharf-Gerstenberg and will run until November 6, 2022.
Vala Schriefer, a 4th year student at Bard College Berlin, writes in the
exhibition guide
: "Studying such an aesthetically and politically powerful artwork as Goya's
Los Desastres de la Guerra
creates a newly empathetic viewpoint from which to consider the diverse catastrophic effects of war, including the flight of populations, psychological wounds, and political and geographical reconfigurations across the earth in the present day. These events, animated and stressed by the haunting and torturous visions of Goya's etchings, are to some BCB students in fact intimate experiences. Since the beginning of the university's
Program for International Education and Social Change
, over 10% of the BCB student body has been made up of young refugees."
Over the next several weeks, Bard College Berlin students and faculty will be organizing events connected to and inspired by the exhibition. More information about the exhibition and accompanying program can be found
here
.
Post Date:
09-16-2022