All un-moderated students (BA first and second year, and Academy Year) live on campus in residence halls. The Residential Life staff engages residents in providing a safe and active community in the residence halls. Each building has a student Residential Assistant who provides both programming efforts and 24/7 on-call coverage for emergency situations. Additionally, there are full time staff members on call for emergency situations.


KW Residence Halls
Bard College Berlin's un-moderated students (BA first and second year, and Academy Year) live on campus in gender inclusive residence halls, usually sharing a room, often with a student from a different country. The residence halls are spacious, light-filled buildings, each no more than 5 minutes' walk from the cafeteria, Factory Arts Building, and all other facilities and buildings on campus. The SPOK fitness center, for which the College has a membership, is also nearby.

The newest residence hall are twin buildings with apartment-style housing, and common learning and recreational areas. 4-5 students share a spacious apartment with their own kitchen, living room and bathroom facilities.
The Residential Life staff
Each residence hall has a student Residential Assistant (RA) who lives in the building. RAs are tasked with both maintaining building safety and security, and also fostering a sense of community among the residents. They take time to build positive connections with the residents and provide programming opportunities (both social and educational) to help their peers to be better students and also to create lasting friendships.

The RAs report to the Director of Housing and Residential Life who oversees the on-campus living accommodations. All requests and concerns about housing should be routed through the Director of Housing and Residential Life at [email protected].

Any concerns related to facilities should be reported to the student Residential Assistants or via email to [email protected].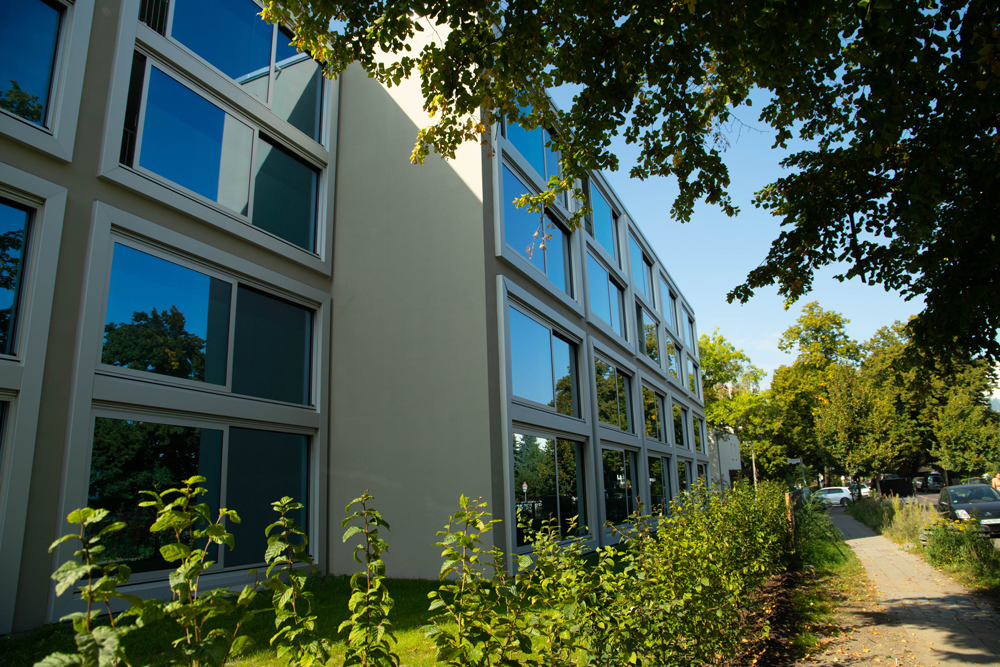 Henry Koerner Hall
The Henry Koerner Hall, is a modern apartment-style building ("Neubau"). Each apartment has its own kitchen, living room, and bathroom facilities. Construction on this building was finished in 2019 and the building includes many energy saving and environmentally friendly features.

All residence halls rooms are fully equipped to cover basic needs - they include a bed (with or without built-in drawers), a wardrobe, a desk, a chair, a bookshelf, a bed lamp and a desk lamp (per person). Bed linens are also provided. All the residence halls have free wireless internet access. Students are responsible for the cleaning of their own spaces; the College provides cleaning services in the common areas.
Safety & Security
The Bard College Berlin campus is located in a very quiet residential neighborhood, Pankow. Both the campus and Pankow are, generally speaking, very safe.

All residence halls (rooms and buildings) have various security measures in place. Each building entrance is always locked. Each building is equipped with first aid kits, fire alarms and fire extinguishers. Multiple times a night the Residential Assistants as well as a professional security team do rounds of the buildings.

Additionally, the phone numbers for Residential Assistants and the professional security team are posted in multiple points around the residence halls. Students are encouraged to call if they see something out of the ordinary or feel unsafe.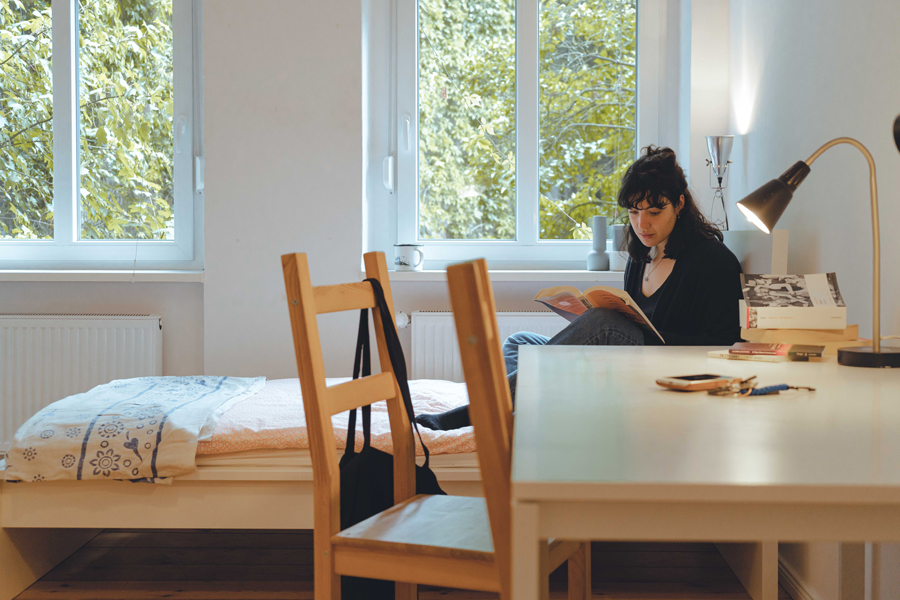 Treskowstraße Residence Halls
Two of the residence halls are renovated traditional Berlin apartment buildings ("Altbau") with a courtyard and garden.

Each apartment typically comprises of three double rooms, a hall, its own bathroom facilities and a fitted communal kitchen. Hardwood floors and high ceilings give these rooms a particular charm. Free of charge laundry facilities (washing machines & dryers) are available on the grounds.
Policies & Procedures
As expected, there are a set of policies and procedures that govern living on-campus, which are outlined in the Student Handbook. These guidelines include policies around: noise, guests, cleaning, drugs and alcohol, as well as damaging institutional property. The policies are in place to ensure a safe and comfortable living environment for all students.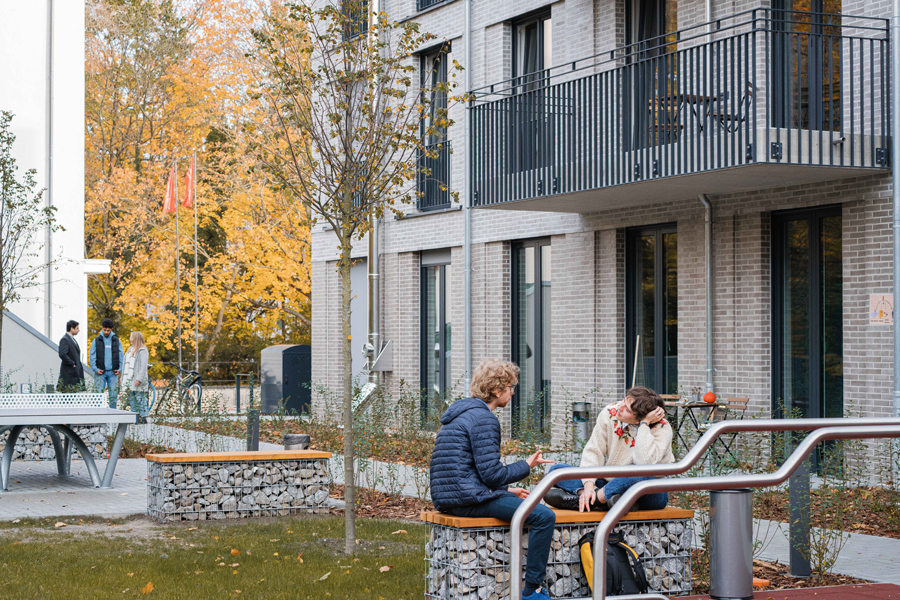 Community
With such small residences comes a small community. Each building develops its own 'feel' over the course of the semester based on the interests and personalities of its residents. It is not uncommon for students to cook together, sharing food traditions from their cultures; to celebrate birthdays together; to study together; or to go explore Berlin together as a group.

During the first weeks and especially during the Language and Thinking Program occurring in the first few weeks for all BA1 and AY students, the residential community becomes very tight knit quite quickly. The friendships formed during these first weeks often last throughout the entire Bard College Berlin experience. After a short while students generally know all of the other on-campus students and develop a strong community.