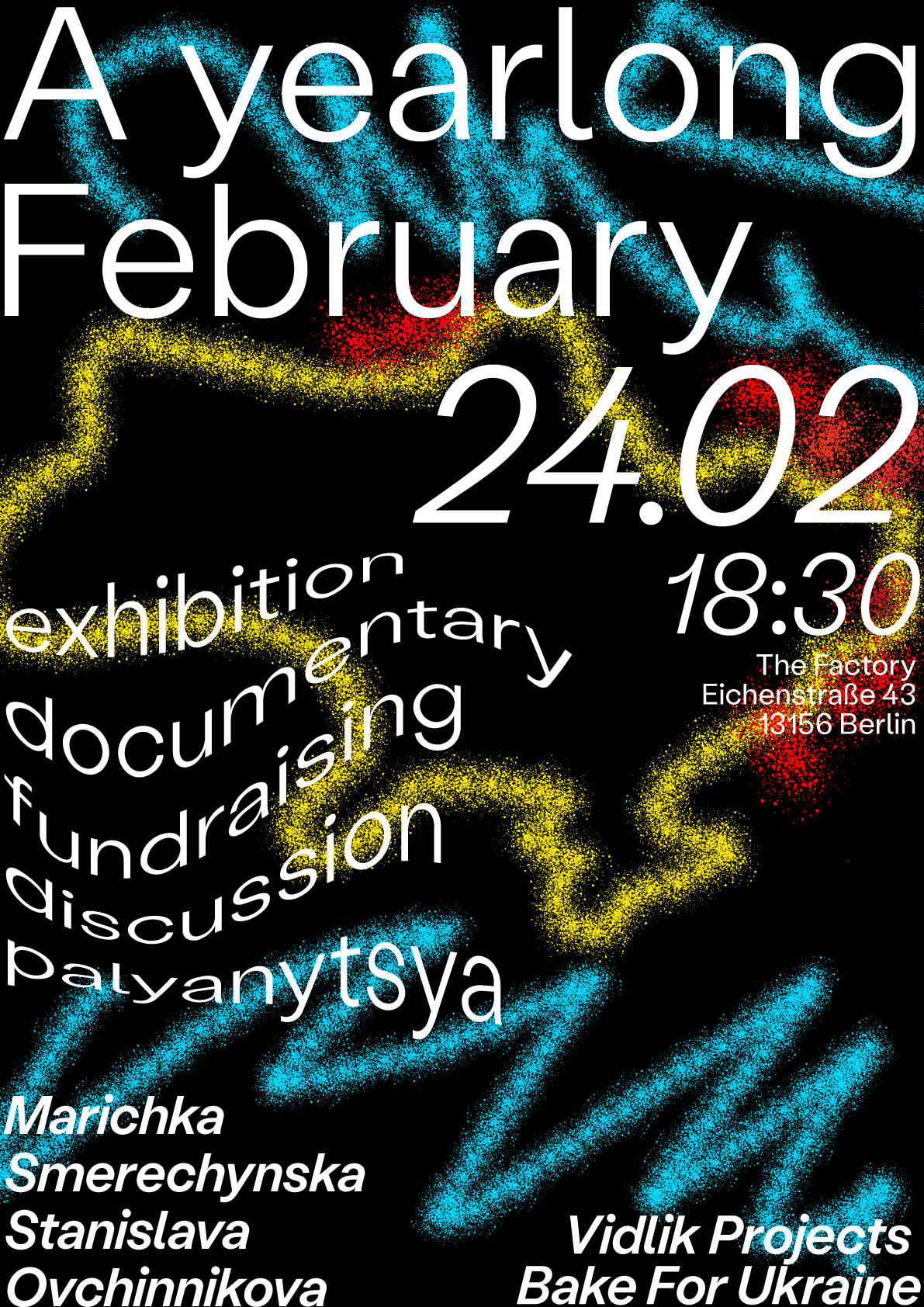 A Yearlong February
Friday, February 24, 2023
The Factory
An on-campus commemoration of the invasion of Ukraine
On the 24th of February 2022, Russia launched a full-scale invasion of Ukraine
. Ukrainian courage, unity, and desire for freedom throughout the year opposed Russian troops' brutality and numerous crimes against humanity. To express solidarity with the Ukrainian nation on this tragic date, we invite you to look at the devastating Russian aggression through the eyes of youth that stayed, fled or decided to fight for their country. The event will include an exhibition on the experience of exile, screenings of short artistic documentaries and fundraising for the Ukrainian humanitarian initiative based in Berlin.
Event Program:
6:30 pm | The Factory |
Stanislava Ovchinnikova: Exhibition "A Home, A Place to Sleep"
This exhibition is an invitation to reflect on the complexities of home and homelessness. Rooted in the author's own search for refuge, the artworks meditate on the journey of displacement, investigating its impact on the sense of self and belonging. Created in response to the ongoing war in Europe, they serve as a testament to all of those who were ever forced to migrate.
8:00 pm | The Factory |
Vidlik Projects: Screening "The street I need"
20 teenagers from different parts of Ukraine give testimonies to the attack on their home in a series of video essays. In cooperation with independent musicians, they document wartime reality, feelings, and reflections on the loss of their former lives. The alienated and generalised perspective of the media rarely builds a narrative around human destinies. This project will do the exact opposite. Because each and every story matters.
9:00 pm | The Factory |
Bake for Ukraine: Fresh bread, charity market and discussion
The initiative that provides assistance to Ukrainian bakeries (donations and free grain) during the war will share their special recipe of
palyanysya
! If you purchase a piece of their bread or a memory postcard, you will have a chance to help them with their mission to secure local food supply. We invite you to have a thorough discussion about the ongoing war and share your impressions of the event while tasting fresh
palyanytsya
and traditional Ukrainian drinks.
---
Email:
[email protected]