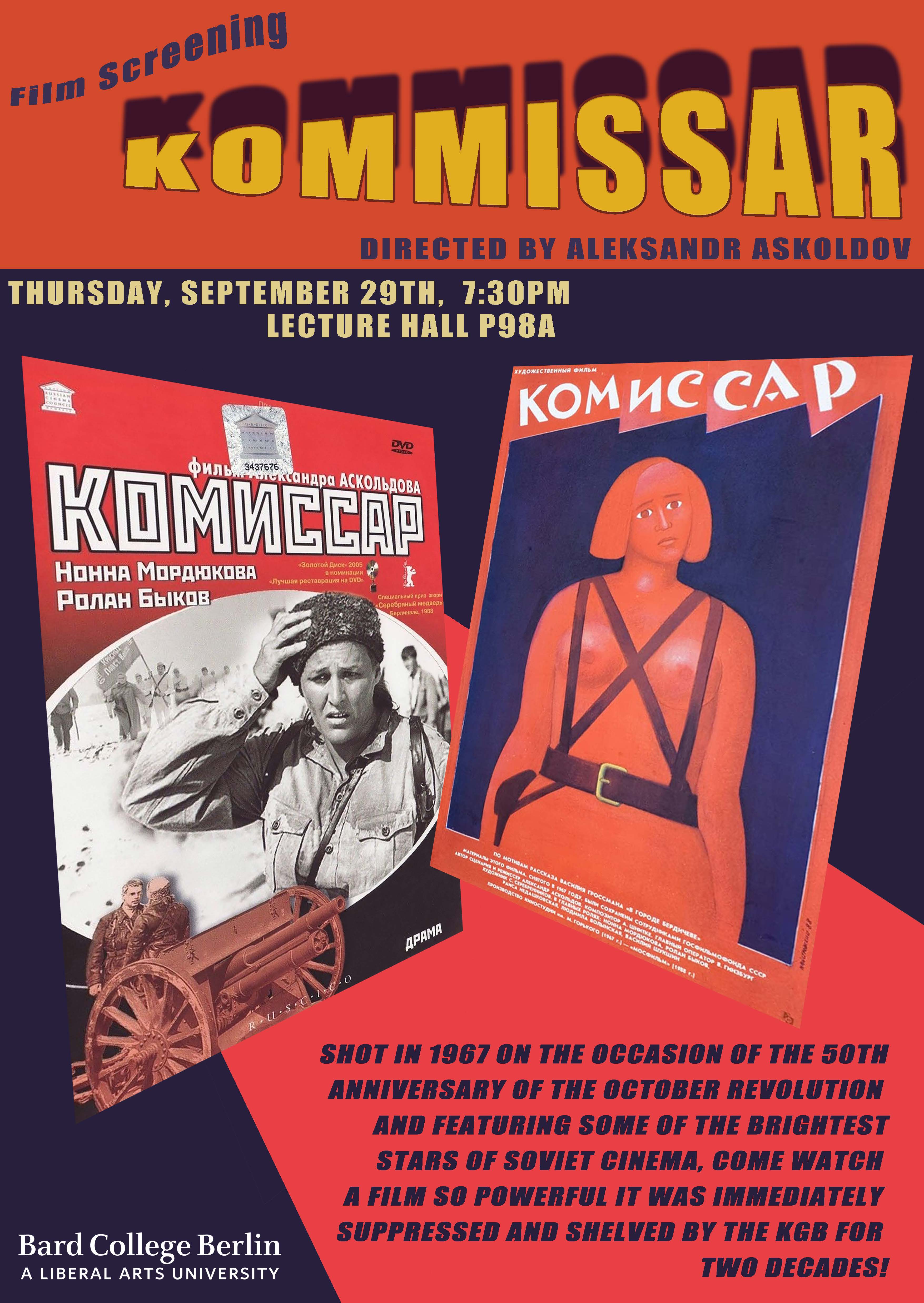 Film Screening: Kommissar
Thursday, September 29, 2022
7:30 pm – 9:30 pm
CEST/GMT+2
Lecture Hall, P98a
An outstanding work of Soviet cinematography, "Commissar" is notable for its artistic qualities as much as for its troubled history. Shot on the occasion of the 50th anniversary of the October Revolution, and featuring some of the brightest stars of Soviet cinema, the film was immediately suppressed and shelved by the KGB for two decades while its maker, Aleksandr Askoldov was expelled from the Party, exiled from Moscow, and banned from working on feature films for life. First released under Gorbachev, "Commissar" won the Silver Bear - Special Jury Prize at the 38th Berlin International Film Festival in 1988.
Set in Ukraine during the Civil War that followed the October Revolution, "Commissar" tells the story of Klavdia Vavilova, a female commander of the Red Army, who finds herself pregnant. Forced to request a leave from military service, Vavilova takes shelter in the home of a poor, three-generation Jewish family who, by helping her deliver her baby boy, push her to reconsider the claims of motherhood and civilian life. Thinking across multiple divides (sexual, political, ethnic, religious), the film is a poetic rumination on the meaning of human life and the challenges of revolutionary politics.
A graduate of Moscow Lomonosov University and the Gorky Institute of World Literature, Aleksandr Yakovlevich Askoldov (1932-2018) worked as an administrator for the USSR Ministry of Culture and for Goskino's Feature Film Production, before enrolling to study film direction with Leonid Trauberg. His first film Commissar (1967) was banned for more than 20 years due to Askoldov's refusal to change important aspects of the film (notably the main character's Jewish identity), which put an end to his career as a director in the USSR.
---
Email:
[email protected]