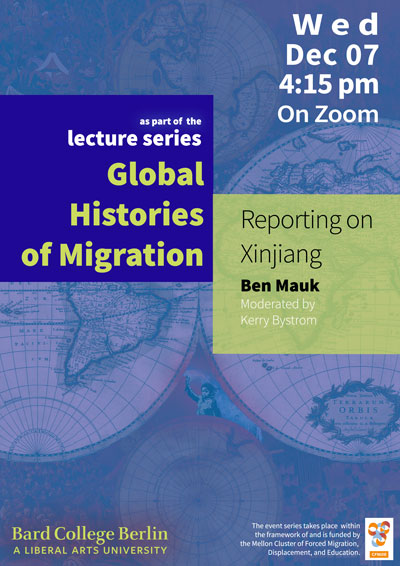 Global Histories of Migration: Ben Mauk – Reporting on Xinjiang
Wednesday, December 1, 2021
Lecture series
4:15 pm CET
Prize-winning journalist Ben Mauk will discuss his work covering the human rights violations committed by the Chinese state against its Muslim Uyghur minority, and the forced migration of Uyghurs to neighboring states such as Kazakhstan.
Ben Mauk
is an investigative journalist and writer who regularly publishes in such media outlets as the New York Times Magazine, the New Yorker, Harper's Magazine, the Guardian, the London Review of Books. He has taught English Literature and Writing at the University of Iowa and is co-founder of the creative writing center, Berlin Writer's Workshop. His coverage of the persecution of the Uyghurs has been internationally lauded and recognized with the New York University Award for Investigative Reporting and the Jamal Khashoggi Award.
This event is part of the Global Histories of Migration lecture series and funded by the
Mellon Consortium on Forced Migration, Displacement and Education.
---
Email:
[email protected]