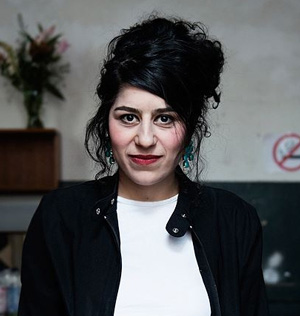 Sahar Rahimi – How Can Theater be Political?
Wednesday, October 6, 2021
9:00 am – 10:00 am
CEST/GMT+2
Discussion
9:00 am CEST
Sahar Rahimi (Monster Truck) has created a variety of theater and performance works that deal with asymmetrical power relations. Centering around topics such as structural discrimination of disabled people or repressive postcolonial dynamics Monster Truck's performances build on the social power structures inherent in the theatrical event (directing, watching, being watched) in order to create a challenging social space of confrontation, revelation and negotiation. Sahar Rahimi will give us insights to Monster Truck's work and discuss the possibilities and limits of theater's political potential.
Sahar Rahimi, born 1981 in Tehran/Iran, is a director, performer and visual artist. She studied at the Institute for Applied Theater Studies in Giessen and is co-founder and co-artistic director of the performance group Monster Truck.

Monster Truck works in the fields of theater, performance, video and visual arts. The group realizes national and international projects in the independent scene and at municipal theaters, including the Sophiensaele Berlin, the Mousonturm Frankfurt, the Münchner Kammerspiele, Schauspiel Bochum, and the Nationaltheater Gent, and has been a guest at numerous festivals, such as the Impulse Festival, the Radikal Jung Festival, the Israel Festival, and the lagos_live Festival. For her work Monster Truck was awarded the Favoriten Festival Prize and the Tabori Prize.
---
Email:
[email protected]