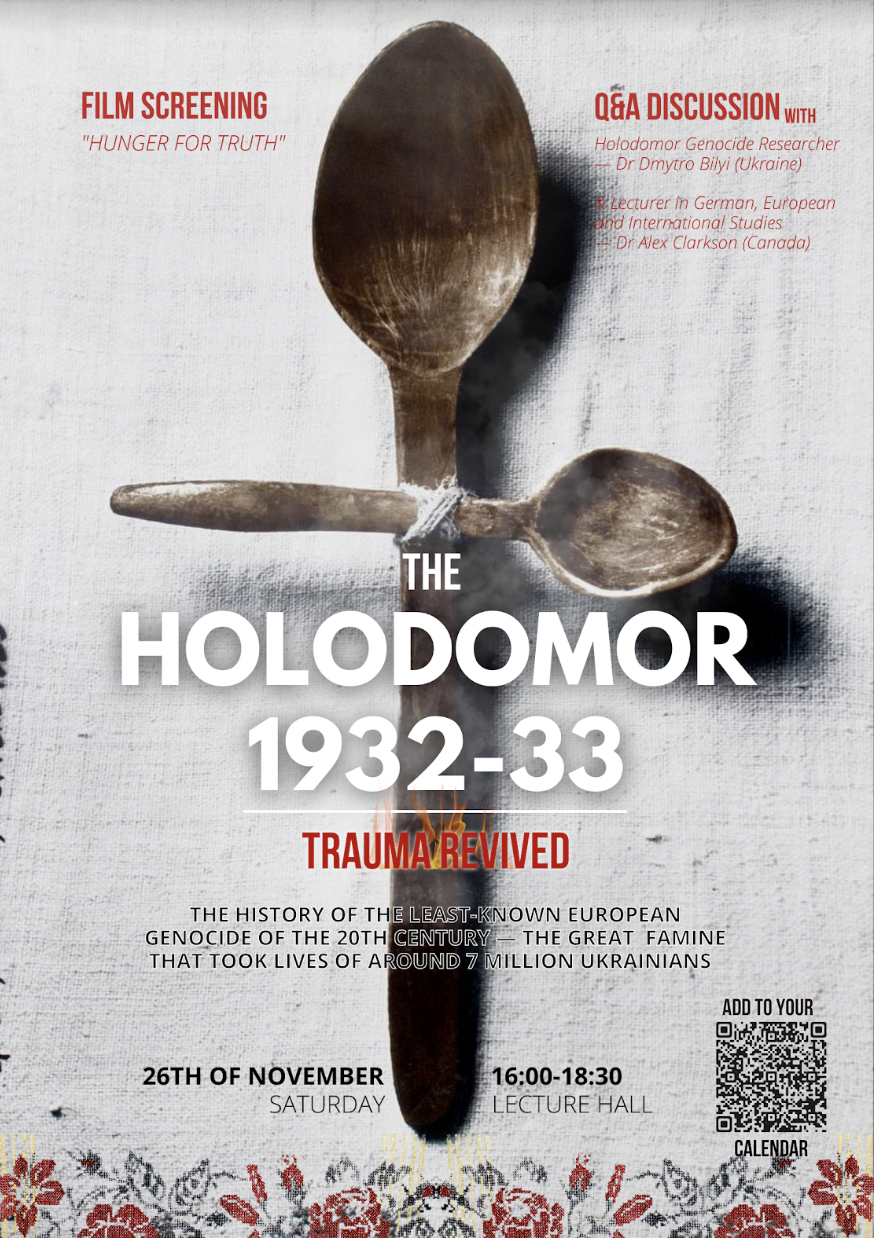 The Holodomor 1932-33: The Trauma Revived (Film screening and Q&A)
Saturday, November 26, 2022
4:00 pm – 6:30 pm
CET/GMT+1
Lecture Hall
Among the European genocides of the 20th century, the Holodomor is probably the least known, and the least researched. A famine in 1932-33 that killed up to 7 million Ukrainians is considered an intentionally organised murder, which was brought about by requisitions and brutal mass collectivisation used to starve and smother all Ukrainian resistance against Soviet imperialist rule. The image painted by Soviet media that showed the creation of a paradise on Earth, where class inequality and economical struggle were eliminated, was silent about the price of the coveted communism. So, no foreigner could estimate the scale of the Red terror in the 1930s, when man-made starvation spread all over the territory of Ukraine after Joseph Stalin's rise to power.
This event will include the screening of the documentary
Hunger for Truth
(2018) by Ukrainian director Andriy Tkatch, which interweaves the uncovering of the truth about Holodomor with the devastating war started by the Russian government in 2014 in Eastern Ukraine. Afterwards, we will have an opportunity to discuss, together with Dr Dmytro Bilyi (Ukraine) and Dr Alex Clarkson (Canada), who will join us online, the significance of the Holodomor for today's culture and the Ukrainian defensive war against Russian aggression. We will also talk about how memory, history, politics, propaganda, and warfare are interconnected, and whether or not it is legitimate to politically exploit the memory of genocide in a conflict that threatens Ukrainians with falling victim to a new genocide in an imperialist continuity.
---
Dr. Dmytro Bilyi
— Ukrainian writer, researcher of the Kuban, Doctor of historical sciences, professor. In 1989 he graduated from the Faculty of History of Donetsk State University, worked at the Department of History of Ukraine, defended the dissertation in 1994; in 1997, started to head the Department of History of Ukraine and Ukrainian Studies at Donetsk Law Institute. In 2010 defended his doctoral dissertation. Since 2020 holds the position of the Head of the Holodomor Genocide Historical Research Department of the Holodomor Research Institute in Kyiv, Ukraine.
Dr. Alexander Clarkson
— lecturer in German and European & International Studies. Born in Canada, after completing his schooling in Hanover, Germany, Alexander Clarkson studied Modern History at Balliol College, Oxford. After graduating in 2000, he went on to complete his doctorate at the University of Oxford in September 2006. He also taught for a year as a Lecturer in Modern History at New College, Oxford, before joining the European and International Studies Department at King's College London in 2007.
---