Bard College Berlin Student Nawara Alaboud Wins Rhodes Scholarship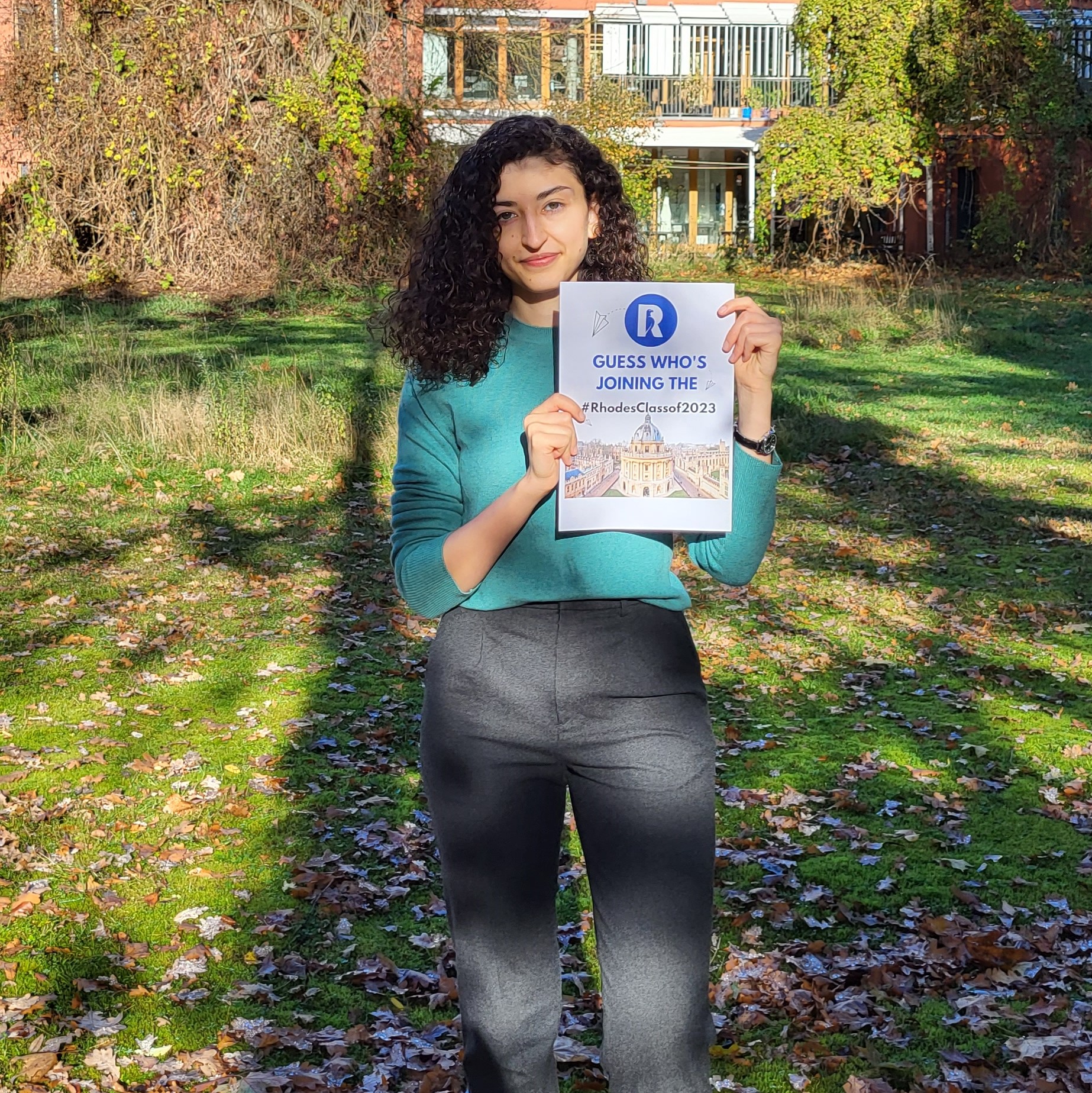 Nawara Alaboud, a fourth-year student at
Bard College Berlin
, has been awarded a Rhodes Scholarship. One of the most prestigious scholarships available to undergraduates, the
Rhodes
is a fully funded award for postgraduate study at the University of Oxford.
Originally from Syria, Alaboud came to Bard College Berlin in 2019 on a full scholarship in the university's
Program for International Education and Social Change
(PIESC). She is studying for a BA in Humanities, the Arts, and Social Thought (concentrating in Ethics and Politics) and recently returned from an Erasmus exchange semester at Sciences Po in Paris. Before moving to Germany, she studied in Syria and India.
Prof. Dr. Catherine Toal , Dean of Bard College Berlin, paid tribute to Alaboud's achievements as a student and to the support and encouragement provided by college faculty: "Professors at the college are immensely proud to have had the opportunity to teach a student of Alaboud's intellectual gifts and personal courage. She is an inspiration to students and faculty alike." Dr. Marion Detjen, Academic Director of the PIESC program, emphasized Alaboud's thirst for knowledge, diligence and ability to penetrate complex issues as well as her "wise modesty." Referring to the public
Real Talk
series, Dr. Detjen stated: "Nawara spoke so movingly of the plight of those left behind in Syria that everyone present was palpably affected; and this was all the more impressive because it was combined with very considered and sober analyses of the economic and political situation."
As a Rhodes Scholar, Alaboud aspires to pursue future research in comparative political science. She is particularly interested in the processes of ending military hostilities, peacebuilding, and democratization and their interactions in post–civil war countries, especially in the Middle East. In her bachelor's thesis, she attempts to trace the effects of peace agreements on the success of democratic transitions. At Oxford, she hopes to pursue an MPhil in Politics (comparative government): "The prospect of joining the wide community of previous Rhodes Scholars, and the chance to join the outstanding academic community at Oxford, is incredibly exciting," she says. "It is not lost upon me what a rare privilege this is; so many gifted young Syrians deserve such an opportunity but are hindered from receiving it by the severest of circumstances. I hope to be able to make the most of my time at Oxford and to contribute something of value to the field of post-conflict studies, especially for the people who suffer the consequences of war everywhere. This would have never been possible without the help and support of so many incredible people, especially my ever-so-generous professors and academic advisor."
Alaboud's is one of two Rhodes Scholarships for students from Syria, Jordan, Lebanon, and Palestine, conferred in partnership with the Saïd Foundation. It is also one of two Rhodes Scholarships awarded this year to Bard students: At
Bard College in New York,
Sonita Alizada, an Afghan student who is internationally recognized as a rapper and human rights advocate, was awarded a Global Rhodes Scholarship, available to students from nations that are not members of established Rhodes constituencies. Alizada has spoken and performed at United Nations events, urging an end to child marriage and standing up for the rights of women and girls, especially in her home country.
About Bard College Berlin
Bard College Berlin is a globally diverse liberal arts college offering four-year Bachelor of Arts degrees accredited in Germany in the United States. Eligible students earn a dual US and German degree. The College has a history of supporting students from countries and regions in distress, including Syria, Iraq, Yemen, Eritrea, Iran and most recently Afghanistan and Ukraine. Currently, the student body consists of 313 students from 63 countries and six continents.
About Bard College
Founded in 1860, Bard College is a four-year, residential college of the liberal arts and sciences located 90 miles north of New York City. It offers bachelor of arts, bachelor of science, and bachelor of music degrees, with majors in more than 40 academic programs; graduate degrees in 13 programs; eight early colleges; and numerous dual-degree programs nationally and internationally. Building on its 162-year history as a competitive and innovative undergraduate institution, Bard College has expanded its mission as a private institution acting in the public interest across the country and around the world to meet broader student needs and increase access to liberal arts education. For more information about Bard College, visit
bard.edu
.
Post Date:
11-25-2022