BCB student Vala Schriefer writes the exhibition guide for Goya Yo lo vi – Ich sah es – I Saw It, and presents a series of gouaches, The Atlas of the Stranger at the Sammlung Scharf-Gerstenberg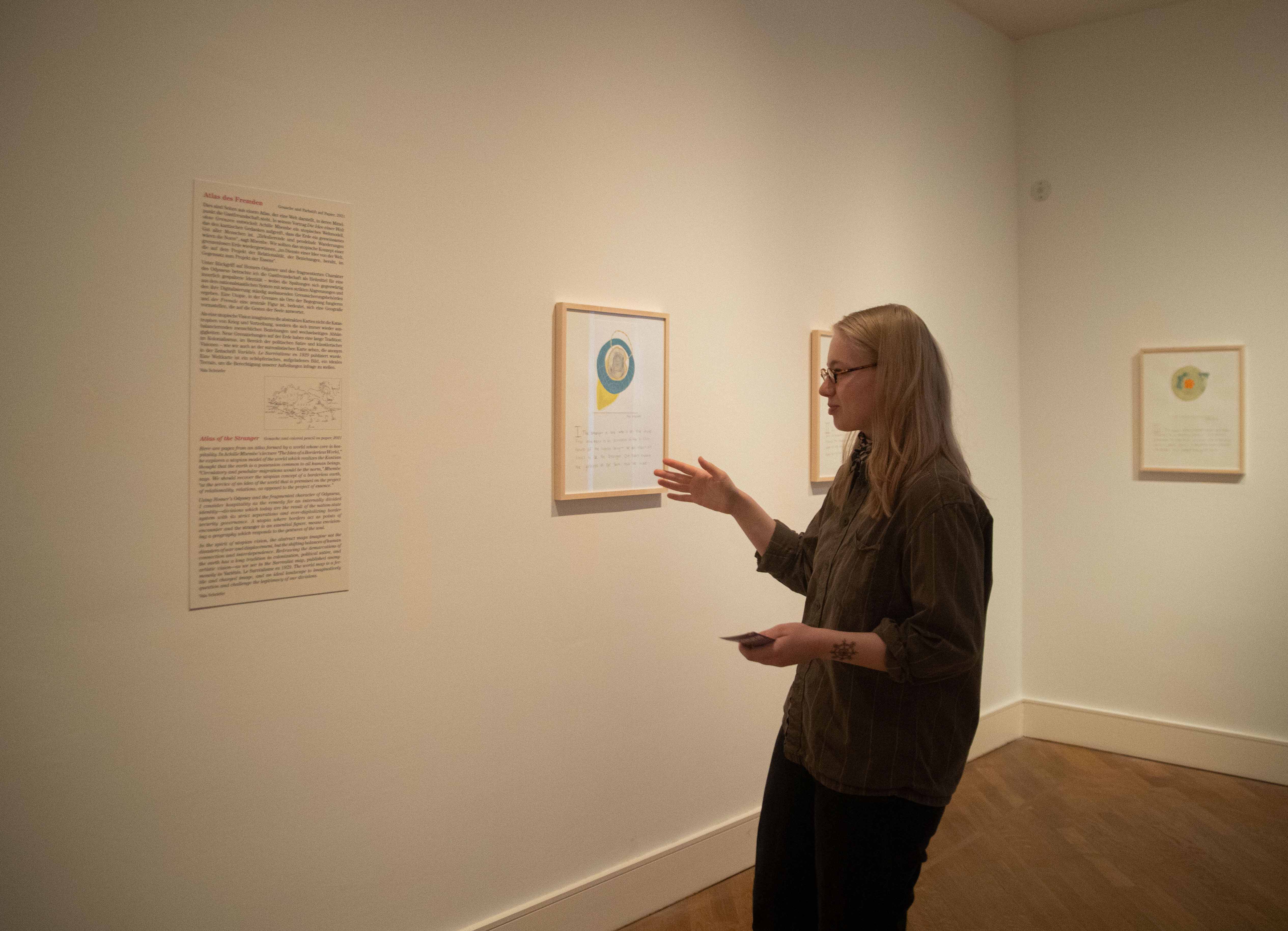 Bard College Berlin student Vala Schriefer created a nine-part series of gouaches
The Atlas of the Stranger
(2021), which is currently on view in the Stüler Building at Sammlung Scharf-Gerstenberg alongside the
Goya Yo lo vi – Ich sah es – I Saw It
exhibition. In the series, Vala explores the themes of borders, as enforced by the nation-state system and hospitality as the remedy for divisioned identities. Vala created the work as part of the BCB seminar,
Research Creation: Forced Migration and the Arts
.
In addition to displaying her own artwork, Vala wrote the text for the exhibition guide for
Goya Yo lo vi – Ich sah es – I Saw It
. The exhibition is a core part of Bard College Berlin's
Eine Uni ein Buch (One University one Book) project
, which BCB was selected to receive by the Stifterverband and the Klaus Tschira Stiftung.
The themes depicted by Goya are close to the real-life experiences of several BCB students. As Vala writes in the guide: "Studying such an aesthetically and politically powerful artwork as Goya's
Los Desastres de la Guerra
creates a newly empathetic viewpoint from which to consider the diverse catastrophic effects of war, including the flight of populations, psychological wounds, and political and geographical reconfigurations across the earth in the present day."
Goya's works are particularly relevant to the BCB student body for perceiving images of war and reflecting on ways to move forward. As Vala puts it: "... to be moved by such works, is to allow the beauty and sublimity, or the resistance to them, to be the medium of communication and to be granted that space to feel and think in communion: to feel the horror, and to think, what can be done?" The college's scholarship initiative, the
Program for International Education and Social Change
, supports the refugee students that are studying at BCB, a number that represents nearly 15% of the student body.
Goya Yo lo vi - Ich sah es - I saw It
and
The Atlas of a Stranger
will run until November 6, 2022. Over the next several weeks, Bard College Berlin students and faculty will be organizing events in connection with the exhibition and centered on themes such as migration, borders, and Francisco de Goya's extremely influential role in art history.
Post Date:
09-23-2022