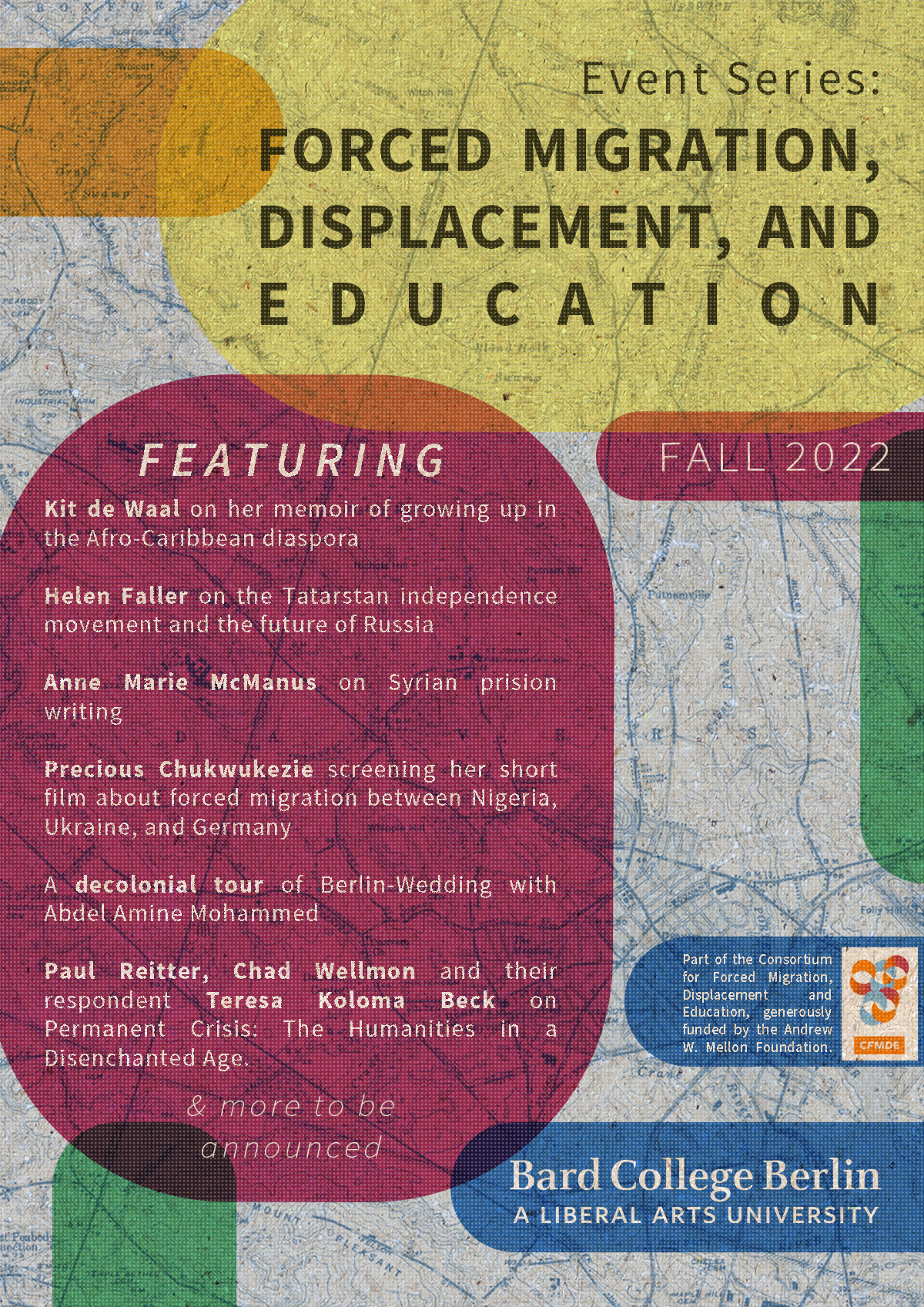 Event Series: Forced Migration, Displacement, and Education
Friday, October 14, 2022 – Saturday, December 10, 2022
Bard College Berlin
This Fall, a series of events focusing on the ideas of forced migration, displacement, and education will take place at Bard College Berlin. These events vary from lectures to film screenings to hands-on events and more, hosted by a variety of Bard College Berlin faculty and featuring many guest speakers.
This event series is made possible with the support of the Consortium for Forced Migration, Displacement and Education, generously funded by the Andrew W. Mellon Foundation.
Events in this series:

Friday, October 14, 6:00-7:30pm
Involved Campus Talk: Precious film screening and discussion
Platanenstrasse 98A
This event is centered on the topic of forced migration, and what it means to loose and to build a home. BCB student Precious Chukwukezie is the short film's protagonist and was part of the collaborative film making process, along with master students of social and cultural anthropology at Freie Universität Berlin. After the film screening on campus, the audience is invited to stay for a Q&A and discussion round, moderated by BCB student Alex Ribeiro. Anyone is welcome to share their own perspectives and experiences as part of the discussion. This event is free and open to the public.
Tuesday, November 1, 5:00pm
Readings from Kit de Waal, author of
Without Warning and Only Sometimes
Centre for British Studies
,
Mohrenstr. 60
Kit de Waal is a British-born author of Caribbean and Irish descent. Her debut novel,
My Name Is Leon
(2016) was an international bestseller. It was shortlisted for the Costa First Novel Award and won the Kerry Group Irish Novel of the Year Award in 2017. In 2022 it was adapted for television by the BBC. Her other works
The Trick to Time and Becoming Dinah
,
Supporting Cast
, and
Common People
. Her memoir
Without Warning & Only Sometimes
was published in August 2022. Kit is a founder of her own TV production company, Portopia Productions, and the Big Book Weekend, a free digital literary festival. Kit is a Fellow of the Royal Society of Literature and Professor and Writer in Residence at Leicester University.
Kit will be reading from
Without Warning & Only Sometimes
and from the introduction to the
Common People
anthology. This event is free and open to the public. It is also organized in collaboration with the Centre For British Studies and Literary Field Kaleidoscope.
Sunday, November 6, 12:00-2:00pm
A Decolonial Walking Tour of Berlin-Wedding Led by Abdel Amine Mohammed
This is a closed event funded by CFMDE for students enrolled the course PT160: Transnational Feminism Is for Everybody.
Wednesday, November 9, 7:00-8:30pm
Permanent Crisis. The Humanities in a Disenchanted Age
Waldstrasse 15
What are the humanities, and why study humanistic subjects? Considered by many as irrelevant for modern careers and professional success, the humanities seem to be in a perpetual state of crisis. In their new book
Permanent Crisis. The Humanities in a Disenchanted Age
, Paul Reitter and Chad Wellmon show that this crisis isn't new—in fact, it is as old as the humanities themselves. The self-understanding of the modern humanities didn't merely take shape in response to a perceived crisis; it also made crisis a core part of its project. This event is free and open to the public.
Thursday, November 17, 12:30-1:45pm
Syrian Prison Narratives
Platanenstrasse 98A lecture hall
This event features a talk with scholar Anne Marie McManus, a fellow at the Forum Transreigonale Studien. McManus oversees
The Prison Narratives of Assad's Syria: Voices, Texts, Publics (SYRASP),
a five-year research project sponsored by the European Research Council. This event is free and open to the public.
Friday, December 2, 5:30-7:30pm
Is Russia Over? A Discussion with Dr. Helen Faller
Waldstrasse 15 Cafe
Russia's bungled attempt to invade Ukraine in 2022 has laid bare the fragility of its governing model. If Russia fails as a state due to the war in Ukraine, what forms might decolonization take? What could post-Russia Eurasian space look like? Based on intensive fieldwork in Tatarstan and Russia from 1998 to 2006 and recent interviews with people in the Tatar diaspora, Faller will suggest answers to these questions. Co-hosted by the Civic Engagement program and PT 304 "USSR: A Post-Colonial Assessment". This event is free and open to the BCB community, including students, staff, faculty, and alumni. To register, please email
[email protected]
.
---