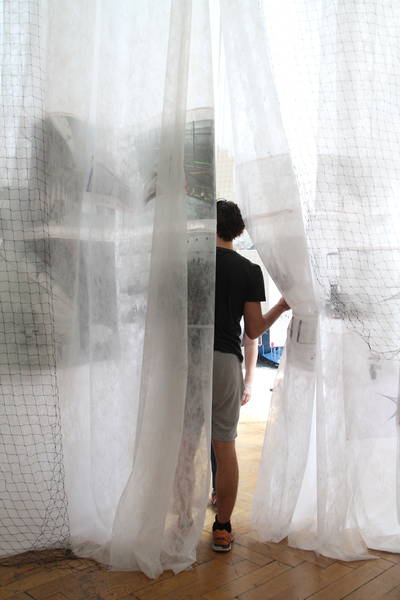 Exhibition and Student Conversation Tread Softly
Wednesday, October 11, 2017 – Saturday, October 28, 2017
2:00 pm – 6:00 pm
EDT/GMT-4
BOX Freiraum
Tread Softly: The City, Migration, and Memory
deals with migratory and migration memories in and of the city. It is a collaborative exhibition project that was created by students and professors from Bard College Berlin and the Academy of Fine Arts Vienna. Tread Softly: The City, Migration, and Memory will be on view at the BOX Freiraum from October 12 through 28 and will open on Wednesday, October 11 with an introductory conversation led by the students about their work.
"Tread softly because you tread on my dreams," begs W.B. Yeats in the last line of his famous poem. His call invites us to rethink our relationship between the well-trodden paths of the city and our experiences and memories of migration. The exhibition named after this gentle line combines academic and artistic enquiry and expression and aims to demonstrate the potential of learning, teaching, and researching in socially and culturally diverse and inclusive environments. Almost all the students have a migratory background, forced and/or voluntary. Some pay for their education, some receive scholarships and some are not even officially enrolled.
The exhibits came into being as individual research projects in a seminar on German migration history at Bard College Berlin. They grapple with issues of identity and belonging, relating migrants' memories to the Holocaust memorialisation in Berlin, dealing with gender visibility and invisibility in the city and trying irony as a tool to cope with the ambiguities of migrant existence. The installation in which these exhibits are embedded is designed and built by students of Art and Architecture from the Academy of Fine Arts, Vienna. Responding to the challenge of finding transitory, adaptable, disappearing and reappearing architectures, it seeks neither to master nor to serve the individual embedded pieces, but to enter a dialogue with them.
Vienna and Berlin, two magnets for recent migratory movement, provide the double-centred, elliptical points of departure for a collaboration between education in the Liberal Arts and Architecture. This exhibition proposes alternative conditions and possibilities for experimental education, trusting in students' creativity and embracing collaborative, collective, engaged learning and teaching. We hope to spark a discussion about how experimental education could be used to help regenerate the arrival city's innovative potential and allow more people to meaningfully participate in it.
Exhibition Contributors:
Bard College Berlin: Dr. Marion Detjen, Ghaithaa Alshaar, Maheen Atif, Clara Canales Gutierrez, Joel Dombrower, Anna Gersh, Margarethe Hattingh, Muhanad Kaikanni, Nina Lewis, Tamar Maare, Victoria Martinez, Wafa Mustafa, Dachil Sado, Bono Siebelink
Academy of Fine Arts, Vienna: Prof. Michelle Howard, Benjamin Grabherr, Duha Samir, Clarissa Lim Kye Lee, Adam Hudec, Aya Kurz, Victor Gautrin, Clara Fung Ka Yee, Ella Felber
Exhibition dates:
Opening Wednesday, October 11 at 7pm
October 12 though 28, Wednesday through Saturday 2pm - 6pm
Venue:
BOX Freiraum
Boxhagener Strasse 93/96 (Innenhof)
10245 Berlin
---
Email:
[email protected]