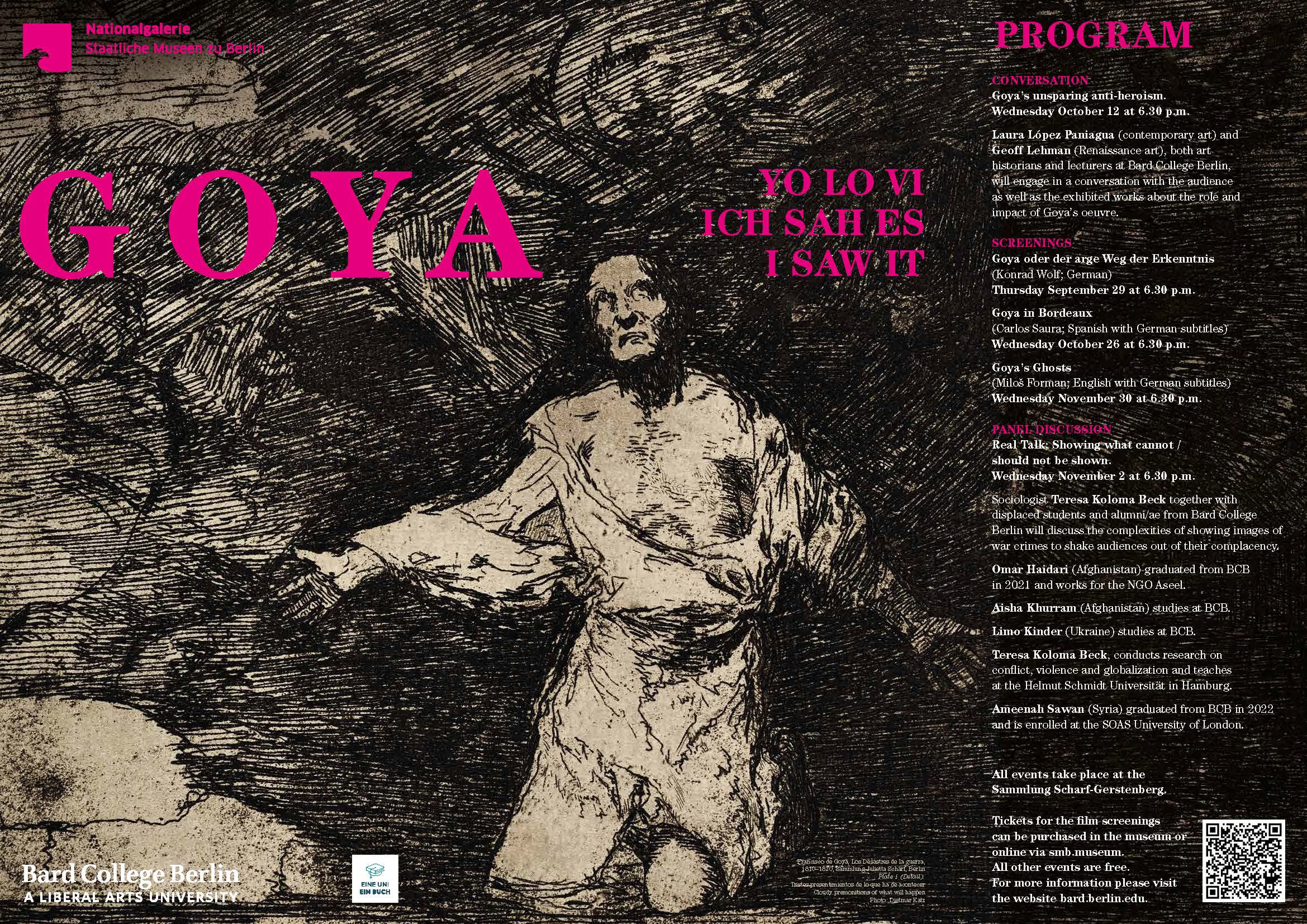 Exhibition and Event Series: GOYA - Yo lo vi / Ich sah es / I saw it
Friday, August 19, 2022 – Sunday, November 6, 2022
10:00 am – 6:00 pm
CEST/GMT+2
Sammlung Scharf Gerstenberg
For the third time, Bard College Berlin has won the award "Eine Uni ein Buch," an initiative supported by several German foundations. The book we picked is Goya's "Los Desastres de la Guerra," a series of prints published in book format that depict the atrocities of the Napoleonic Wars in Spain. The themes are frightfully contemporary and relevant. Together with the Scharf Gerstenberg Collection BCB organized the exhibition of Goya's works and an events program that reflects on topics such as war, migration and exile.
The exhibition shows around three dozen original prints and all four print cycles by Goya, including "La Tauromaquia" (1814-1816) and "Los Disparates" (1819-1823). The exhibition will run from August 19 to November 6, 2022.
Events:
Conversation
Goya's Unsparing Anti-Heroism
, A Conversation With Laura López Paniagua and Geoff Lehman
Wednesday October 12 at 6.30 p.m.
Laura López Paniagua (contemporary art) and Geoff Lehman (Renaissance art), both art historians and lecturers at Bard College Berlin, will engage in a conversation with the audience as well as the exhibited works about the role and impact of Goya's oeuvre.
Panel Discussion
Real Talk: Showing What Cannot / Should Not Be Shown, A Panel Discussion
Wednesday November 2 at 6.30 p.m.
Sociologist Teresa Koloma Beck together with displaced students and alumni/ae from Bard College Berlin will discuss the complexities of showing images of war crimes to shake audiences out of their complacency. Omar Haidari (Afghanistan) graduated from BCB in 2021 and works for the NGO Aseel. Aisha Khurram (Afghanistan) studies at BCB. Limo Kinder (Ukraine) studies at BCB. Teresa Koloma Beck, conducts research on conflict, violence and globalization and teaches at the Helmut Schmidt Universität in Hamburg. Ameenah Sawan (Syria) graduated from BCB in 2022 and is enrolled at the SOAS University of London.
Film Screenings
September 29, 6:30pm - Goya oder der arge Weg der Erkenntnis (Konrad Wolf) [German-language only]
October 26, 6:30pm - Goya in Bordeaux (Carlos Saura) [Spanish language with German subtitles]
November 30, 6:30pm - Goya's Ghosts (Miloš Forman) [English language with German subtitles]
Students may visit the exhibit and all events for free at the Sammlung Scharf-Gerstenberg if they present their student ID at the front desk. To attend the film screenings for free, RSVP by email to Bendetta Roux (
[email protected]
) at least 24 hours in advance of the screening and bring your student ID to the event.
Eine Uni – ein Buch is an initiative of the Stifterverband and the Klaus Tschira Foundation in cooperation with DIE ZEIT.
---
Email:
[email protected]