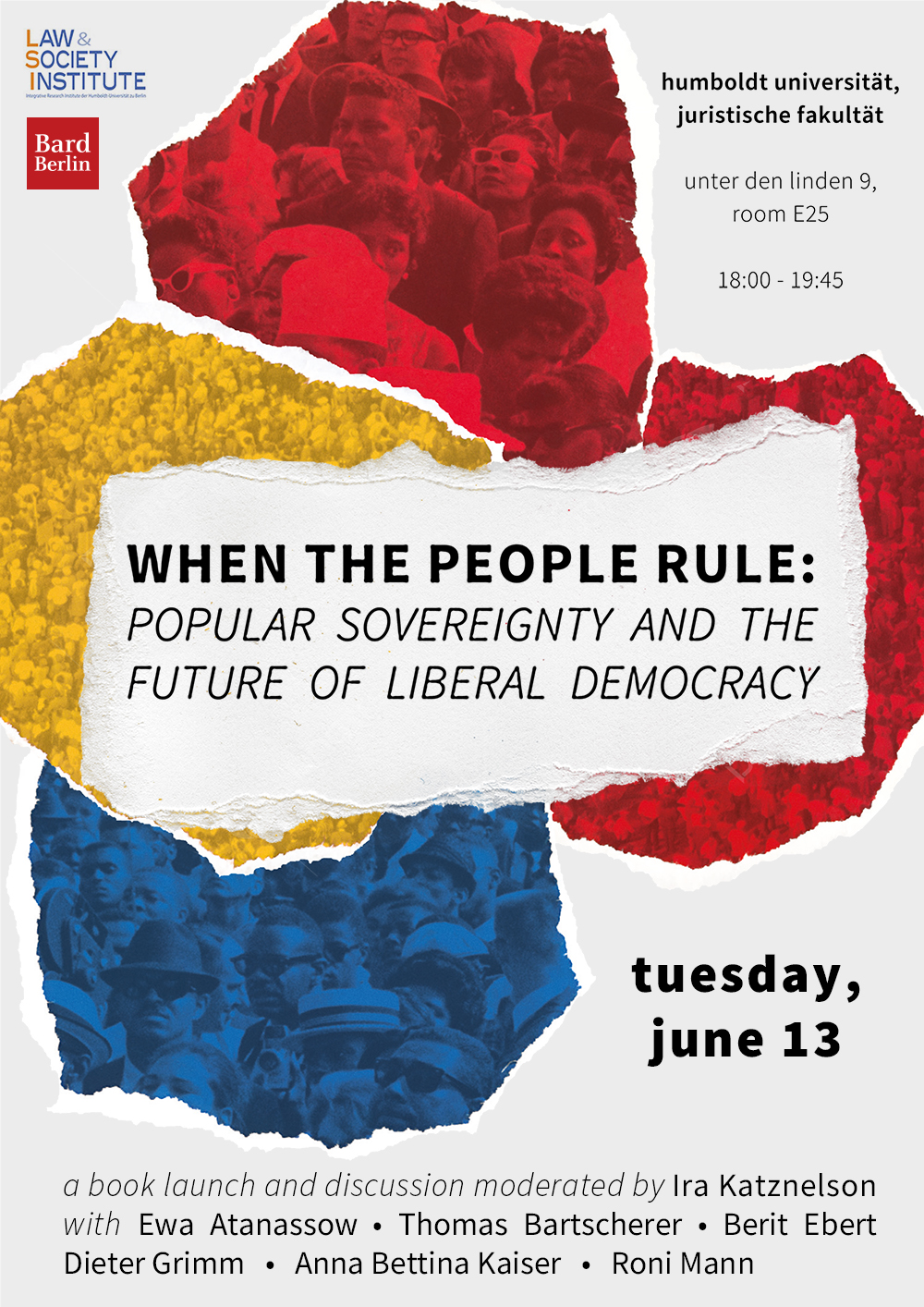 When the People Rule: Popular Sovereignty and the Future of Liberal Democracy
Tuesday, June 13, 2023
6:00 pm – 7:45 pm
CEST/GMT+2
Humboldt University
The idea and ideal of popular sovereignty, which has served to ground the liberal democratic order and to legitimize power in the modern world, has come under increasing pressure in recent decades. On the one hand, the rise of authoritarian populisms purporting to express the will of the people has undermined the commitment to liberal norms and constitutional protections. On the other, a growing influence of international institutions and non-governmental organizations has insulated large areas of policymaking from political contestation and popular control. The result of these developments has been to call into question the very coherence of liberal democracy.
When the People Rule: Popular Sovereignty in Theory and Practice
(Cambridge University Press, 2023) - a new interdisciplinary volume co-edited by Ewa Atanassow, Thomas Bartscherer, and David Bateman - proposes that comprehending the political crises of our time, and ensuring the prospects for government that is both genuinely democratic and committedly liberal requires a radical rethinking of popular sovereignty.
Co-hosted by Bard College Berlin and the Law and Society Institute at Humboldt-Universität zu Berlin, this international panel will convene scholars from a variety of perspectives such as law, philosophy, political science, and sociology to explore the central themes of the volume, and thus to reconsider the viability of liberal democracy as a constitutional model. Participants include
Ewa Atanassow
(Bard College Berlin),
Thomas Bartscherer
(Bard College, Annandale-on-Hudson),
Berit Ebert
(Bard College Berlin),
Dieter Grimm
(Wissenschaftskolleg Berlin),
Anna Bettina Kaiser
(Humboldt Universität zu Berlin), and
Roni Mann
(Barenboim-Said Akademie). The discussion will be moderated by
Ira Katznelson
(Columbia University).
This event will take place at Humboldt Universität zu Berlin, Juristische Fakultät, Unter den Linden 9, 10117 Berlin, room E25.
---
Website:
https://bit.ly/when-the-people-rule