Hanan Toukan to be featured speaker at roundtable hosted by the EUME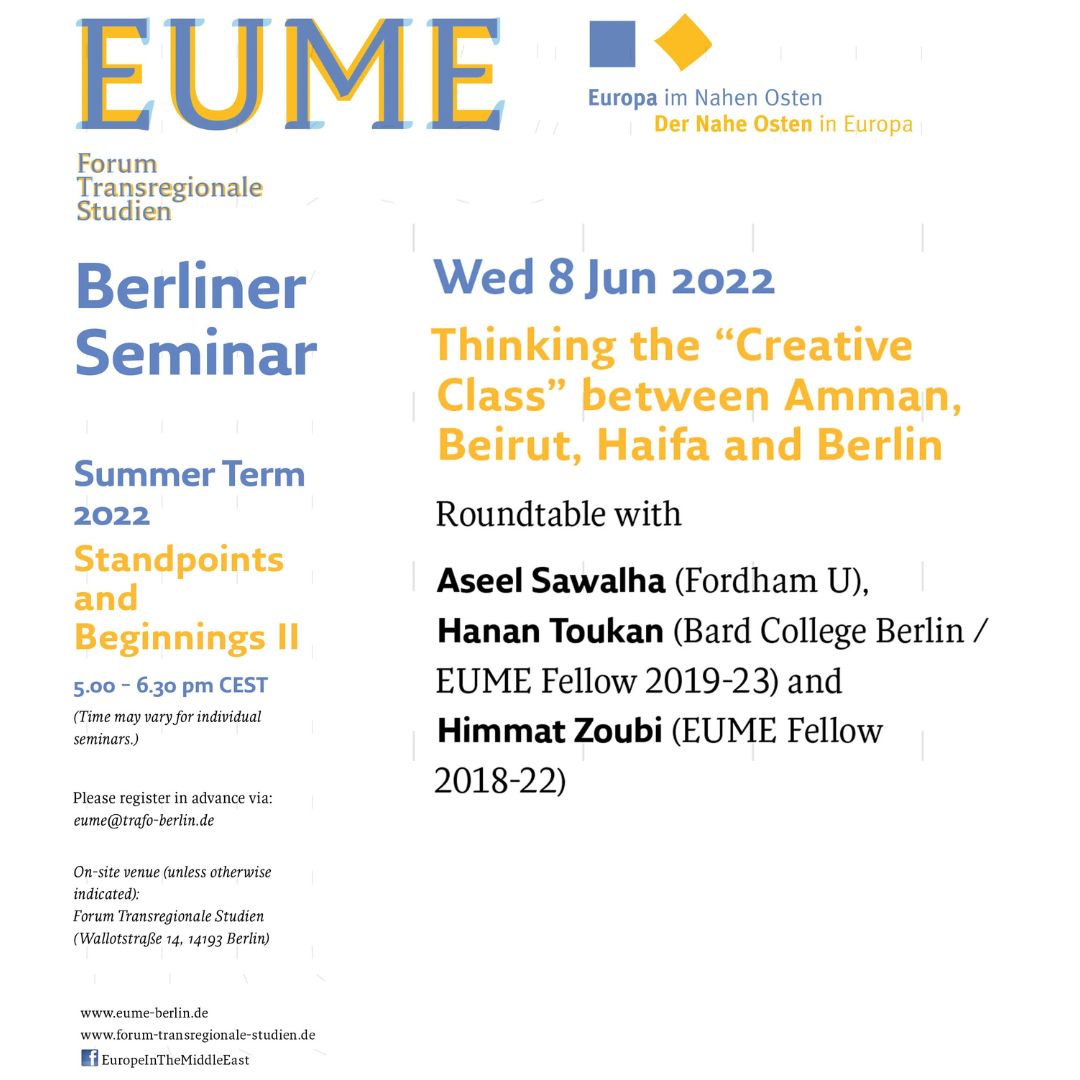 BCB Professor of Middle East Studies and EUME Fellow of the Alexander von Humboldt Foundation ('19-'23)
Hanan Toukan
is a featured speaker at the roundtable:
Thinking the "Creative Class" between Amman, Beirut, Haifa and Berlin
. Prof. Dr. Toukan will be joined by
Aseel Sawalha
(Fordham University) and
Himmat Zoubi
(EUME Fellow 2018-22) as they discuss "issues of creativity, knowledge production, political engagement, the mobility and immobility of artists, and art-related products, and solidarities in the lives and works of activists, scholars, artists and writers in and from four interconnected cities in the Arab region and Europe." The round table discussion will take place on June 8, 2022, 5:00pm CEST at the Forum Transregionale Studien, Wallotstr. 14, 14193 Berlin.
From the blurb: This conversation invites a reflection on artistic and cultural practices in formal and non-formal spaces in and between four distinct urban locations that nonetheless share fundamental similarities: Hayfa, Beirut, Amman and Berlin. This reflection provides an opportunity to think about the ways in which the multitudes of cultural and knowledge producers at work in the gig economy today respond to neoliberal capitalism's precarious policies towards cultural labor. Thinking about the conditions of possibility of alternatives ways of organizing within this framework the panel ask several questions: What drives the creative class today? What structural challenges does it face and what shapes the varied forms of its production? And what role does urban context, generation, class and gender play in shaping the subjectivities and conversations this class of creatives generate, beyond issues of the politics of representation?
For more information on
Thinking the "Creative Class" between Amman, Beirut, Haifa and Berlin >>
Post Date:
06-08-2022