In conversation with artist Sam Zamrik (HAST '21), Wunderblock award recipient and author of Ich bin nicht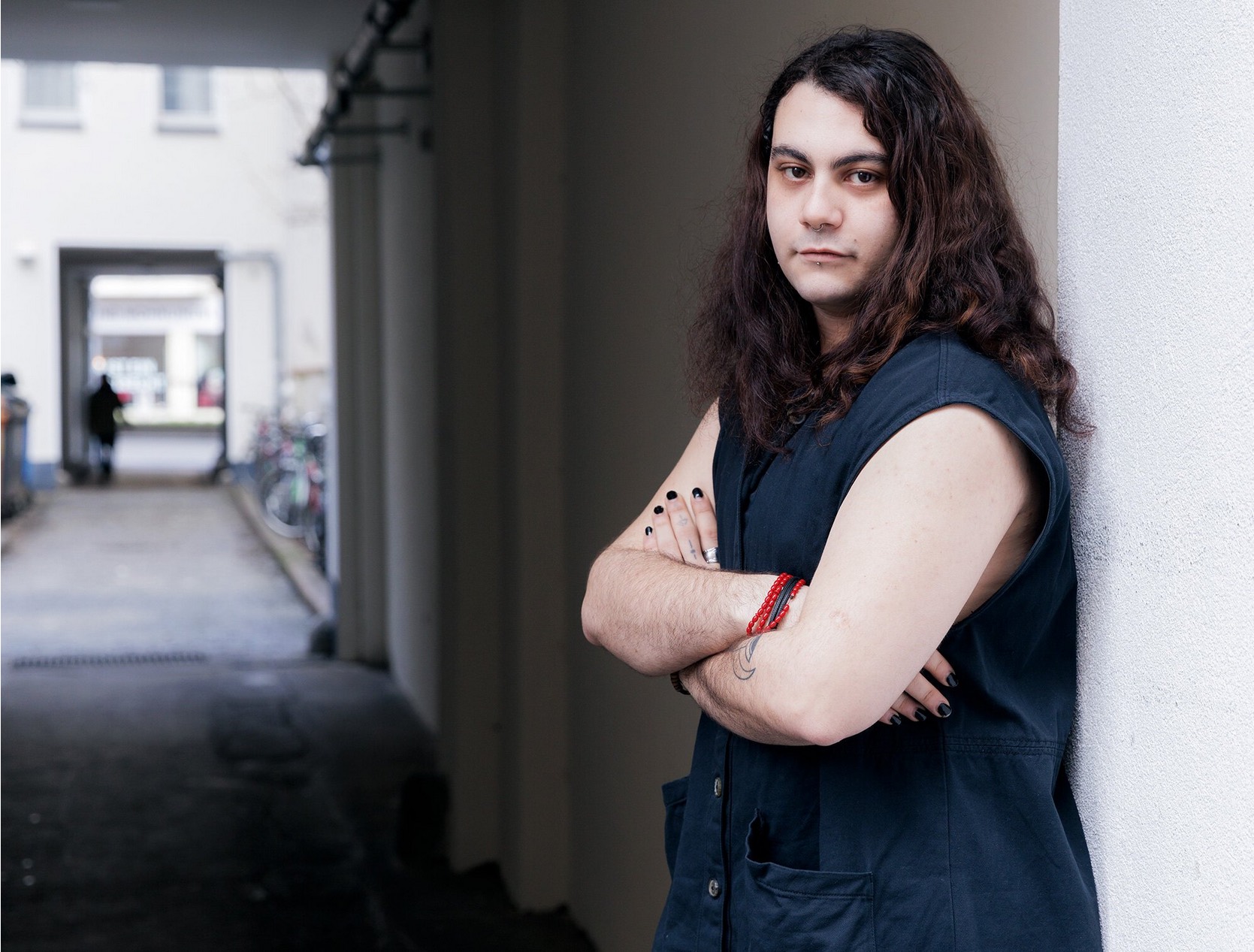 BCB alum Sam Zamrik has been making headlines as an up-and-coming member of Berlin's art scene. Zamrik, a Queer Syrian poet and political educator, is the inaugural recipient of the
Wunderblock Award
, a €10,000 grant issued by the Wunderblock Foundation established by artist Katharina Grosse. In a press release for the award, the foundation says, "Through their baroque, sometimes laconic images, Sam Zamrik finds expression for war and flight, for uprootedness and loneliness, for feeling non-existent and having no voice."
Zamrik's first published volume of poetry,
Ich bin nicht
(I am not), will be released by Hanser Berlin on October 15, 2022, in English and German.
Ich bin nicht
explores themes of belonging and unbelonging, from Damascus to Berlin and beyond. Accompanying the launch, Zamrik will perform readings from the book at the
Archäologie des Verlusts
Festival at the Roter Salon of Volksbühne on Saturday, October 15 at 8pm. To purchase tickets for this event, click
here
. To pre-order a copy of
Ich bin nicht
, visit Sam's
website
.
Additionally, Zamrik's lyrical work will be featured in
New Songs from the Earth
which will premiere at the Neuköllner Oper on October 15, 2022.
New Songs from the Earth
seeks to "capture contemporary experiences, images and feelings about the concept of 'Mother Earth' in a musical-scenic mosaic that quotes the original music and continues it in new compositions – symphonic and chamber music, with vocals and also purely instrumental." More information (including where to buy tickets) can be found
here
.
Bard College Berlin reached out to Sam to ask them a few questions about art, culture, identity, and exploration.
What about your personal and intellectual background informs your work?
I am queer, I come from a very poor and uneducated family, I grew up under a dictatorship regime, and I suffer from chronic mental illness, but I also came to have access to a university education and can speak three languages. Most importantly, however, I have always been an outsider. Each of these things plays a huge role in my work today and informs it every step of the way. For instance, I prefer to give workshops on topics that are relevant for the underrepresented, such as the series of workshops I conducted at the Haus der Kulturen der Welt on the topic of asylum and exile, or the creative writing workshops I co-led for disenfranchised refugee high school students in Brandenburg. Moreover, all of these influences converge in my poetry, which I like to believe is positive representation of outsiders like me. I like to craft poems that lend themselves to close reading, but I think that's a lot to ask of the reader, as the content is largely autofiction, so I rely heavily on political theory, philosophy, narratology, and linguistics in order to appeal to the reader, retain their engagement, and deliver my message while also keeping the poems accessible and free of (too much) jargon.
Could you speak to Berlin as a creative, educational, or artistic space?
Though it can be unforgiving at times, Berlin is a patchwork of so many communities and worlds and that lends itself to creation, learning, and art, because Berlin itself teaches, creates, and makes art. One can learn a lot about politics, history, architecture, art, ethnology, post-colonialism, and so much more just by walking between its many Bezirke. Graffiti and other street art meets Renaissance and Romantic painting in the streets; 10 languages buzz together in a lively human loudness on any given train ride; one can walk by buildings that survived catastrophe and others that continue to cause it; home and exile coexist on the same street; the global south reproduces its localities in every part of the city and wears a North Face jacket. I can only wax poetic about Berlin, because Berlin itself is like poetry, and whatever you think of poetry will certainly apply to Berlin as well.
How do you think interdisciplinarity in the classroom fosters creativity outside of the classroom?
Interdisciplinarity opens multiple entry points into any given topic and a broader, more varied perspective on each discipline that one wants to look into, as well as a sure footing when embarking on practical applications. It also delimits a person's capacity to work on a project by providing experience (even if only theoretical) in multiple mediums, which in turn frees up creative energy and allows significant possibilities for practical creation. In other words, interdisciplinarity gives a person multiple tool sets that are readily available for both creative and practical processes.
How do you find—or make—opportunities in line with your interests?
As an outsider even among outsiders, I can't say that I was successful in finding opportunities in line with my interests, but certain opportunities definitely presented themselves to me during multiple phases of my life which I had to cease and tailor to fit. At Bard Berlin for instance, I found that a lot of my interests were at times too niche for a lot of people, so I had to rephrase and rework them in ways that facilitated building bridges between myself and others. To that end, the old adage "Know your audience" is paramount. A weird, albeit good example from my time at Bard, is my life-long interest in the occult. Naturally, it did not go over very well with many people, but couching it in more tangible, more relevant terms and weaving it into politics and philosophy essays seemed to do the trick, and it even began to pique the interest of some people who had previously rolled their eyes every time the topic was brought up, which allowed me to discuss it more freely both inside and outside class. Similarly in my professional life, I had to muster up the courage to make space for myself by learning how to present and pitch things to people in order to create opportunities not previously available to me. So I would say I make opportunities line up with my interests by getting to know who I am talking to and what might interest them as well, then by creating symbiotic, give-and-take relationships that I am ready to accommodate and are ready to accommodate me, with sufficient room for mutual, consensual compromise.
Bard College Berlin thanks Sam Zamrik for their thoughtful, eloquent response and their contributions to cultural discourse both in Berlin and across international boundaries.
Post Date:
10-14-2022