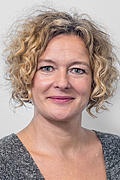 Ariane Friedländer
Germany
MA in Cultural Anthropology and Educational Sciences
Humboldt-Universität zu Berlin
Ariane joined Bard College Berlin in 2020. She also teaches German at other language institutes and at refugee reception centers. In addition, she provides advanced training courses at specialist publisher
Klett/
Langenscheid
t and at
Berlin School of Economics and Law
. Ariane started her career at
Carl Duisberg Centrum
in Berlin, where she taught German and worked as educational coordinator between 2003 and 2018.
While studying Cultural Anthropology and Educational Sciences at
Humboldt-Universität Berlin
, Ariane specifically focused on adult educational theory, media aesthetics and the mass media reception of everyday culture. Her master thesis analyses the genesis and operating principles of daily talk shows in German private television in the 1990s against the background of medieval village courts. She then complemented her education with postgraduate studies in German as a foreign language at
Ruhr-Universität Bochum
in 2003 and with a diploma in Journalism from
Freie Journalistenschule Berlin
in 2020.
Besides her career as a teacher, Ariane is a keen writer and journalist. Her work mainly deals with the social transformation and cultural evolution of her hometown Berlin over the past three decades, captured in daily life and in the biographies of its inhabitants.
Contact:
Ariane Friedländer
German Studies
[email protected]