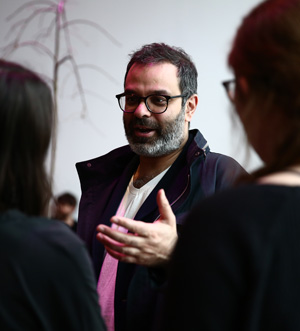 Asad Raza
MA at New York University
USA
Asad Raza combines experiences, human and non-human beings, and objects in his work. Often exploring dialogical exchanges and rejecting disciplinary boundaries, Raza conceives of art as a metabolic, active experience.
Absorption
, in which a group of cultivators create over 300 tons of "neosoil," was shown as the 34th Kaldor Public Art Project in Sydney in 2019, and at the Gropius Bau, Berlin in 2020. For
Untitled
(plot for dialogue), in 2017, he installed a tennis-like game in a deconsecrated sixteenth-century church in Milan.
Root sequence. Mother tongue
—first exhibited at the 2017 Whitney Biennial--combines twenty-six trees, caretakers and objects.
Schema for a school
was an experimental school at the 2015 Ljubljana Graphic Art Biennial. Raza premiered
Minor History
, a filmed dialogue with his 91 year old uncle, at the International Film Festival Rotterdam in 2019.
Raza's projects often inhabit intimate settings such as
The Bedroom
, at the 2018 Lahore Biennale. For
home show
(2015), which took place at his apartment in New York, Raza asked artists and friends to intervene in his life, while
Life to come
(2019) at Metro Pictures featured participatory works and Shaker dance. Raza was artistic director of the Villa Empain in Brussels in 2016-7. With Hans Ulrich Obrist, he curates a series of exhibitions on Édouard Glissant, including
Mondialité
,
Trembling Thinking
at the Americas Society in New York, and
Where the Oceans Meet
at MDC Museum of Art and Design, Miami.
Raza's collaborative practice includes serving as a dramaturge for group exhibitions such as 2014's
A stroll through a fun palace
in the Venice Architecture Biennale, and
Solaris Chronicles
for LUMA Arles. He served as dramaturge for a series of exhibitions by the artist Philippe Parreno. From 2009-2013, he served as producer and director for Tino Sehgal's exhibitions, including presentations at the Guggenheim Museum and Tate Modern and the Roman Agora of Athens, Greece. From 2003-2007, he was active as a political activist, teacher and organizer in New York. Of Pakistani background, Raza studied literature and filmmaking at Johns Hopkins and New York University, where he helped organize a labor strike in 2006. He has written for Jan Mot Newspaper, Kaleidoscope, Frieze, modern matter, n+1, NERO, The New Yorker, The New York Times, Spike, and Tennis magazine.
Contact Information
Asad Raza
Artist
a.raza[at]berlin.bard.edu