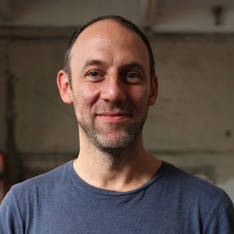 David Levine
USA
MA in English Literature
Harvard University
David Levine is an artist based in New York, and Berlin, whose work encompasses theater, performance, video and photography. His performance and exhibition work have been presented by Creative Time, MoMA, Documenta XII, Mass MoCA, PS122, the Luminato Festival, the Watermill Center, The Luma Foundation, Tanya Leighton Gallery, Blum and Poe, and Untitled Gallery, among others. His work has been featured in
Artforum
,
Frieze
, and the
New York Times
, and his writing has appeared in
Parkett
,
Mousse
,
Cabinet
and
Triple Canopy
.
He received a 2013 Village Voice OBIE award for his installation
Habit
, and was a 2013-14 Fellow in Visual Arts at the Radcliffe Institute for Advanced Study at Harvard University. In 2015, he lectured on the work of Bruce Nauman for the DIA Art Foundation's
Artists on Artists
series, and will exhibit new video and performance work in a solo exhibition at Toronto's TPW Gallery, as well the group exhibition
Hotel Theory
at REDCAT in Los Angeles. He holds an MA in English Literature from Harvard University.
As Bard College Berlin aims to open dialogue between different academic disciplines, so does the Studio Component aim to open a theoretical and practical dialogue between visual, performing, and performance art, as well as between studio practice and critical thought.
Although the Studio Component does offer discrete courses in visual arts and theater, its aim is to create an environment where, through shared studio spaces and equipment, as well as guest talks, critiques, and academic seminars, various artistic disciplines can engage with and influence on one another.
Publications:
"You Had to Be There (Sorta)" in
Parkett,
vol. 95, 2015
"A Genuine Subversion" in
Mousse
, No.41 Dec. 2013
"Interview with Marina Abramovic"
Mono-Kultur, #35
, Nov. 2013
"Interview with Alexandre Singh"
BOMB Online,
12 November 2013
"International Art English"
Triple Canopy
#16
, 2012
"Matter of Rothko"
Triple Canopy
, #13, 2011
"Parking Plots"
Cabinet Magazine
, #41, 2011
"Unsolicited Submission,"
Cultural Politics
6:1, 2010
"I Like Your Work: Art & Etiquette",
Paper Monument
(pamphlet
#1)
, 2009
"Hopefuls" [artist's project],
Cabinet Magazine
#31, 2008
"Sin City: The Art of Howard Chaykin",
Nextbook
, 2008
"Bauerntheater Production Diary"
Theater
, 28:2, 2008
"Bauerntheater" [catalogue], Biorama Projekt/Kulturstiftung des Bundes, 2007
"Interview with Michael Thalheimer",
BOMB.com
2007
"Actors at Work," [artist's project],
Cabinet Magazine,
#25, 2007
"Bad Art & Objecthood,"
Art/US
#13, May-June2006
"Re-Public,"
Theater
, 2005
"Babylon is Everywhere,"
Theater
, 2004
Articles and reviews
(selected):
Anna Altman, "A Real-Life GIF in Central Park",
The New Yorker
(online), May 15, 2015
Steven Squibb, "Faux Pas: David Levine's
WOW
", Artforum, May, 2014
Mike Thomsen, "Together We are None" (interview with David Levine),
The New Inquiry
, January 30, 2014
Andrew Russeth, "Do Opera Singers Lip-Sync?",
Gallerist NY/New York Observer
, January 28, 2014
Dan Fox, "Act Natural",
Frieze
, May/June 2013
Ryan Anthony Hatch, "Performance Geometries, a Primer", PAJ 35.2, March 2013
Daniel Schreiber, "Wie sind wir zu solchen Versagern geworden?" in
Theater Heute
, October 2012
Michael H Miller, "Daily Housework: In 'Habit,' David Levine Makes Acting a Chore",
New York Observer
, October 2, 2012
Anna Altman, "Choose Your Own Adventure" [review],
The New Yorker
online, September 28, 2012
Ben Brantley, "You Have a Role in this Play: Peeping Tom," [review]
New York Times
, September 24, 2012
Gideon Lewis-Kraus, "The Next Big Former Thing,"
Modern Painters
, March, 2012
Amy Holzapfel, "The Habit of Realism,"
Theater
42:1, Winter, 2011
Michael H. Miller, "The Straight Story of the Matter of Rothko," August 12, 2011
Murray Whyte, "David Levine's Habit",
Toronto Star
, June 15, 2011
Paul David Young, "Evolutions of the Performance Aesthetic", PAJ 98, Spring, 2011
Caitlin Berrigan, "Specters: David Levine", EMPAC Uncertain Spectators Blog, January, 2011
Nikki Columbus, "Double Play,"
Artforum.com
, June 1, 2010
Michael Rush, "Interview with David Levine," Art International Radio, May 7, 2010
Ana Texeira Pinto, "Susan Boyle, C'est Moi" [review],
Von Hundert
010, 2009
Naoko Kaltschmidt, "Hopeful" [review],
Spike
, Autumn 2009
Dominikus Mueller, "Hopeful" [review],
Artforum, October 2009
Kari Rittenbach, "Keeping the Hope Alive",
Art in America
.
com
, July 8, 2009
Alexis Soloski, "Mr. High Concept",
The Village Voice
, March 17-24,2009
"Christian Hawkey in conversation with David Levine,"
The Believer
, Winter, 2009
Astrid Mania, "Berlin Dispatches,"
Art Review
#25, September, 2008.
Marvin Carlson, "David Levine's
Bauerntheater
: The Return of the Matrix"
TDR
, Fall, 2008, 52:3
Walter Robbins, "Art Opening as Theater in Berlin",
Artnet,
June 24, 2008
Wolfgang Behrens, "Wer Erntet die Dickste Kartoffeln?"
Theater der Zeit
, June 2007
Anja Quickert, "Das Kartoffel-Konzept"
TheaterHeute
, June, 2007
Daniel Volzke, "Ertragreich,"
Tagesspiegel
, May 21, 2007
Sally McGrane, "An Actor Out Standing in his Field"
The New York Times
, May 20, 2007
In the Media:
A Real-Life GIF in Central Park
Anna Altman (The New Yorker)
May 15, 2015
Act Natural - Interview with David Levine
Dan Fox (Frieze)
May/June 2013
You Have a Role in This Play: Peeping Tom
The New York Times
September 23, 2012
David Levine: Hopeful
(PDF)
Dominikus Müller (ArtForum)
October 2009
Keeping the Hope
Kari Rittenbach (Art in America)
July 8, 2009
Spring Guide: David Levine Messes with Imperfection in Venice Saved: A Seminar
Alexis Soloski
(The Village Voice)
March 17, 2009
An Actor Outstanding in His Field
Sally McGrane (The New York Times)
May 20, 2007
David Levine: Hopeful
(PDF - German)
Naoko Kaltschmidt (Spike Art Quarterly)
Autumn 2009
Personal website:
www.david-levine.net