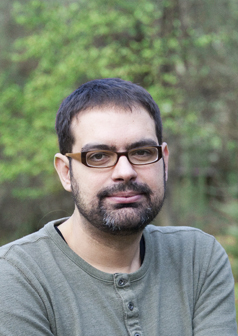 David Martínez Perucha
Spain
PhD in Romance Languages
Free University of Berlin
David Martínez Perucha received a PhD in Romance Languages from the Free University of Berlin (FU), an MA in Philosophy from the Autonomous University of Madrid (UAM) and another MA in Philosophy and Romance Languages from the FU in Berlin, where he has taught literature of the Spanish Golden Age. He has published translations from German and English into Spanish.
At Bard College Berlin he teaches the introductory course Language and Thinking (L&T), and Spanish at all levels, including the preparation courses for the official Spanish language exam (DELE). The language class work is based on a communicative teaching approach aimed at developing students' oral and writing skills through interaction and the introduction of authentic language in form of text, film or music. A great deal of importance is also given to students' personal experiences as a contributing element to the learning process, as well as to linking classroom language learning with the language activities in everyday life situations.
Recent publications
Erika Fischer-Lichte, Ästhetik des Performativen, Suhrkamp, Frankfurt 2004; Estética de lo performativo, Abada, Madrid 2011 (translation)

La traducción del orden natural al ámbito humano. El pensamiento político de Tommaso Campanella, Peter Lang, Frankfurt 2014.