Support Bard College Berlin by shopping online
You can support Bard College Berlin without donating your own money simply by shopping online.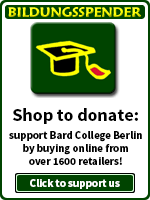 Bard College Berlin is present on Bildungsspender, a website that centralises over 1600 online shops (Amazon, Deutsche Bahn, ebay, Expedia, Lufthansa, zalando etc.) and raises money for educational institutions. Shop with Bildungsspender's affiliated retailers and a percentage of your purchase will be donated to Bard College Berlin, at no extra cost to you.
How it works: click on the banner below to go to
Bard College's Berlin page on Bildungsspender
. Scroll through the list of online retailers, select the shop you plan to purchase from and click on "Zum Shop." You will be directed to the retailer's website, where you should proceed with your online shopping as you normally do. A portion of your purchase will be then donated to Bard College Berlin.
Shop through Amazon's charitable site,
AmazonSmile
, and with every purchase that qualifies, AmazonSmile will donate automatically 0,5% of the value to Bard College Berlin, at no additional costs to you.
How it works: click on the banner below to set up an automatic way of supporting Bard College Berlin every time you purchase on AmazonSmile Germany (you'll see a small notice under the search tab
Unterstützt wird: Bard College Berlin A Liberal Arts University
).
Alternatively you can go straight to
smile.amazon.de
and select our name from the list of participating organizations, before making your first purchase.
Important note: this works only when you shop via Amazon Smile Germany, so be sure to bookmark this link for any future purchases.
Contact Us
Mailing Address:
Bard College Berlin
Platanenstrasse 24
13156 Berlin
Germany
Email:
admissions@berlin.bard.edu
Phone:
+49 30 43733 0
Fax:
+49 30 43733 100