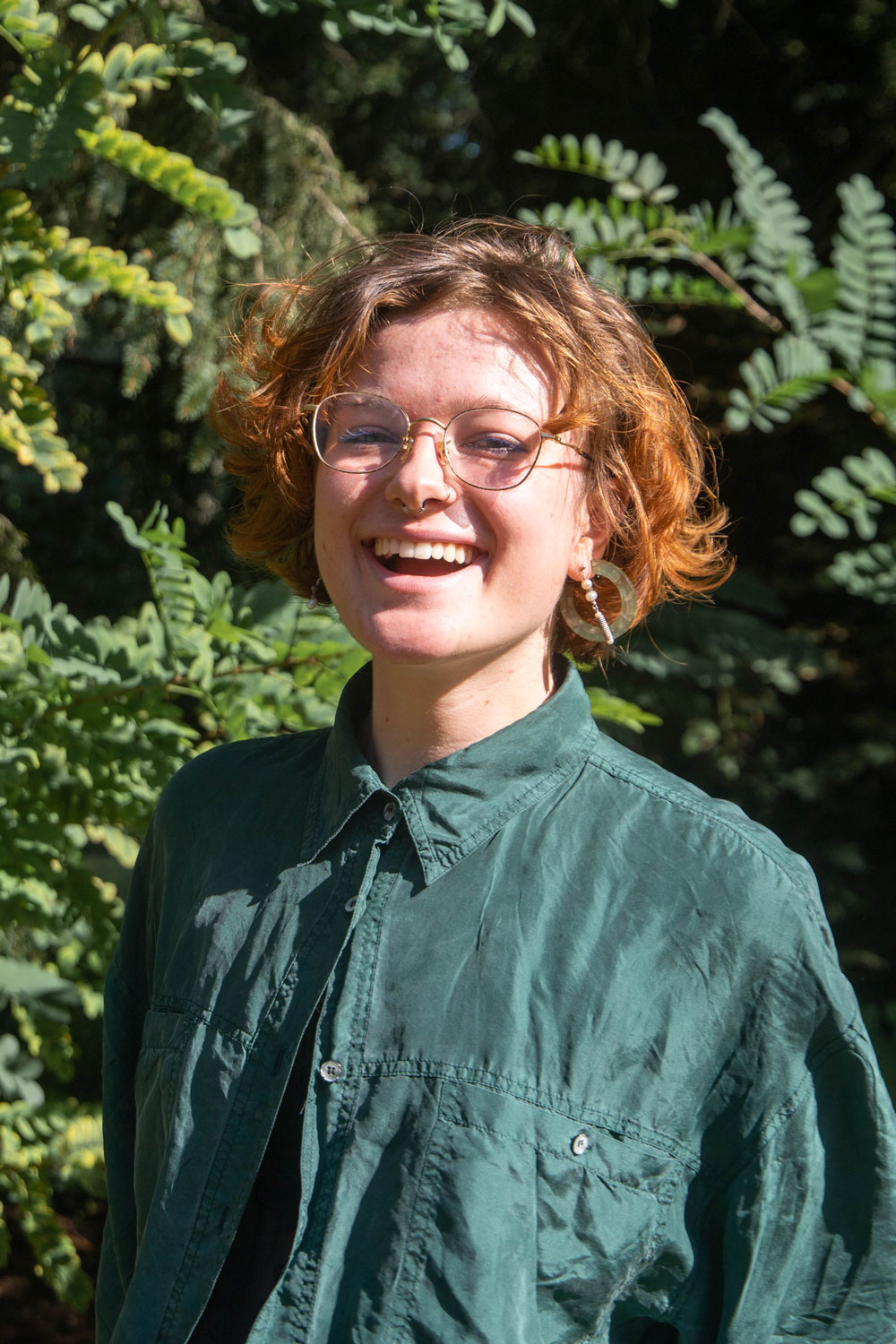 Lex Hill
USA
BA in Humanities, the Arts, and Social Thought (2025)
Concentration in Ethics and Politics, and Arts and Aesthetics
Why did you choose to study at Bard College Berlin?
When considering to pursue further education, I was drawn to the liberal arts because I had far too many interests to narrow my studies. After a few years studying abroad, I learned that what I studied didn't matter as much as who I was studying with. BCB's international student body and emphasis on student engagement creates an environment where learning extends beyond the classroom.
How would you describe our community in a nutshell?
Open-minded and relaxed.
Where is your favorite place to study on campus?
During the colder months when studying outside becomes more difficult, you can find me studying in the K24 reading room. The reading room is a quiet space reminiscent of old libraries and the silent solidarity of my peers helps me focus without distractions. I am also biased to the reading room because it houses the Queer Community Library which is an initiative that I help run.
Are you involved in any student clubs or organizations? If so, which ones?
I have been an Orientation Leader, a position that welcomes new students to campus, which is a great way to get to know the ever-changing community. Currently, I am serving as a
BRAVE Peer Advisor
, where I support fellow students with mental health related issues as well as raise awareness about the topic through community events and collaboration with other
student organizations
. I also spend a lot of time as an organizer of LGBCBTQ+, the student LGBT/Queer community group on campus. We hold educational and social events with the aim of supporting the LGBTQ+ community on campus.
Favorite book you read in a class, and why?
I read
Season of Migration to the North
by Tayeb Salih for my Global Citizenship course during my first semester at Bard College Berlin. This book stands out as a favorite because of the way it cleverly handles topics of migration, colonialism, and violence. Using literature to explore these topics forced me to abandon my comfort mode of intellectualization in the class and interrogate my Western perspectives.
Write briefly about one of your courses that left a lasting impression on you.
In the 2022 Spring Semester I took the course "Introduction to Art and Power" with Prof.
Hanan Toukan
. In short, this course explored the ways power functions in the art world and how art is used as a tool of hegemony and ideology. I credit this course for opening me to the world of critical cultural theory which not only changed my view of art as a whole but has also led me to rethink what it means to call myself an artist.
What surprised you the most about BCB?
My only hesitation before arriving at BCB was that the school would feel too small. I was surprised to find that I actually love the size of our community. It feels intimate in and out of the classroom, yet I also find myself always meeting new people. If the size of our campus ever does feel small, I can easily take public transport and slip into the anonymizing sea of Berlin.
Your favorite thing to do in Berlin on the weekends?
I love to cycle and explore the many parks in the city. It is a goal of mine to visit all of the parks in Berlin, which is a surprisingly difficult undertaking when considering that Berlin is one of Europe's greenest cities. When I am on foot, I love to compare the different neighborhoods, contextualizing their histories to gain a better understanding of present conditions. Wherever I go, I enjoy reading the walls of the city, which you can always count on being covered in graffiti and street art.
What does a liberal arts education mean to you?
I cannot begin to comprehend what a great privilege it is for me to not only study at university but to receive an education that prioritizes interdisciplinary learning over fulfilling hyper specific qualifications. The liberal arts serves this purpose not only by teaching me how to make broad connections across systems of thought but also through contextualizing what I have learned, to make insights that can be tools for understanding and shaping the communities I inhabit. I came to BCB with an ignorant assurance that I knew myself and the world around me. Here, I have learned to value the mutability of knowledge rather than being fixed on stagnated notions of right and wrong. My liberal arts education gives me the freedom to change my mind and change it many times over. The liberal arts has shown me that my education is not over upon receiving a diploma, rather it continues as long as I engage with the world with curiosity and a desire to make connections.
What are your plans for after BCB?
I love Berlin and I am so grateful that I get to experience this city during these years spent at BCB. That being said, I don't see myself living in an urban environment and I would like to live closer to nature. Wherever I end up, I hope to continue investing my time organizing for my community, to apply what I am studying here through practical efforts, and to continue to learn however I can.