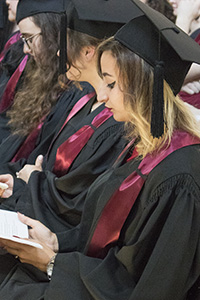 Hana Khalaf
Egypt
BA '18
Currently: MA in North American Studies, Freie Universität Berlin
Where are you from originally and which program were you enrolled in at Bard College Berlin?
I'm from Cairo, Egypt and was enrolled in the Humanities, the Arts, and Social Thought BA program at BCB with the Literature & Rhetoric concentration.
Looking back, what did you most enjoy about your time at Bard College Berlin?
The first thing that comes to mind would be the size of the seminars as well as the thought-stimulating and safe environment they provided. Furthermore, the individual and friendly interaction with the faculty members made the whole experience very enriching and enjoyable, and instilled a sense of a tight-knit community that provides care, but also constantly challenges one's views. I must add that my work on my thesis project with James Harker and Agata Lisiak was certainly one of the highlights and transformative moments of my time at BCB. Seeing how the project - titled:
Destabilizing Eurocentric Feminism: Alternative Arab Feminism within an Intersectional, anti-Orientalist Framework
- was being molded and slowly took shape was a reflection of my development as an unapologetic critical thinker and interdisciplinary academic.
How would you describe, in a nutshell, the experience of studying at Bard College Berlin?
Studying at Bard College Berlin provided me with the tools to constantly self-reflect and be critical of everything including my own views, be open to a new
Weltanschauung
and continuously transform and develop.
How do you think the education you received at Bard College Berlin will help you in the future?
As cliché as it may sound to answer this question, I choose to include a quote from the 1989 film
Dead Poets Society
: "Medicine, law, business, and engineering: these are noble pursuits and necessary to sustain life. But poetry, beauty, romance, love… these are what we stay alive for."
The interdisciplinary nature of the education provided at BCB in the multi-faceted fields of the humanities enables one to gain awareness of the self with its many subjectivities and relationalities.
Furthermore, comprehending how the humanities and social sciences shape our very lives and society (e.g. a linguistic discourse can determine politics as reflected in current migration debates) gives any desired career choice or future outlook an individualized and inherent foundation. My time here - although I wish it had been longer - also helped me discover the fields I would like to specialize in, namely gender, queer and postcolonial theories within both the academic as well as the activist realm.
Where are you now and what are are you doing?
I am currently in Berlin and will continue my studies with an MA in North American Studies at Freie Universität Berlin. In the meantime, I'm enjoying the countless symposiums, workshops, conferences, art exhibitions and cultural outlets Berlin has to offer.
Any advice you would give to students considering Bard College Berlin?
You can see whether it is the place for you or not by getting a glimpse into the inner workings of the institution and community. If you can travel to Berlin, it's the best way to physically get a sense of the campus, join the seminars/lectures (after doing the readings, of course), and most importantly talk to current students about their experiences. If you can't, then check the course lists, go through the syllabi, do a reading or two, get in touch with the students featured on the website - they are always more than happy to help.