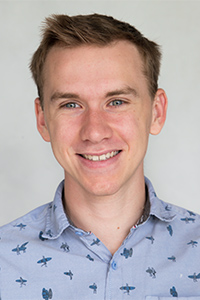 Lucari Jordan
Where are you from and which program are you enrolled in at Bard College Berlin?
I come from New Mexico in the United States, a sparsely populated desert state west of Texas. I have lived all over the state, from the foothills of the Rockies in Las Vegas, to the desert peaks of Las Cruces, to the urban sprawl of Albuquerque. I am currently studying in the Economics, Politics, and Social Thought program at Bard College Berlin, and plan on double majoring.
What drew you to Bard College Berlin and why did you ultimately decide to enroll as a student?
Bard College Berlin wasn't even remotely on my radar when I started looking for colleges, and I would have never known about it if I had not stopped to look at a Common App poster hanging in the hallway of my high school. I looked it up out of sheer curiosity, and was amazed by the international community and degree program. I really felt like the courses would give me the freedom to not be bogged down in the minutiae of one specific subject, which would be to the detriment of any interdisciplinary aspirations, but that I could earn a broader and more versatile wealth of knowledge. I was familiar with the United World College IB program from my youth in Las Vegas, NM and this is a place I felt fostered the same perspective of the world, namely that it is vastly interconnected and even the most distant places are inseparable, and that we must work together to reach our full capacities as individuals and a society. Once I knew that, it was my 1st choice.
What do you like about student life and the community at Bard College Berlin?
I am a big fan of the way that our school as an institution but also as a community works to promote discussion and critical interaction with texts, professors, and the environment, instead of having us study some philosophy of science or art, and come to believe it as an axiom of the universe. This means we are encouraged to develop our own thoughts and academic interests, to interpolate different and often disparate ideas about, and approaches to, research and problem solving. Berlin itself has always been a haven for counterculture and subversive movements, and I think that fits well with the idea of critical engagement our school fosters, and also allows for us as a student body to be exposed to as many differences as we can in one city.
Secondly I find our student body to be just the right amount of "chill", and by this I mean we all tend to have a good sense of balance between school work and activities and developing an external adult life. For instance, I have found it is possible to keep up on school work, work in the Student Parliament, participate in the BCB Politics, Rhetoric and Debate Society, and also pursue my hobbies in the city such as bouldering, attending the theater, and following the contemporary music and art scene. I have also been able to partake in some of the events organized by the Civic Engagement programs on campus, such as attending some clowning workshops and being able to implement those skills while working with refugee children.
What do you enjoy about living in Berlin?
Berlin is such a rich city in its history, its culture (which is very different than any other European city I have visited), and in its personality. This is not a stressful city to live in, but nor is it boring. The city calls to mind the image of wet clay on a potter's wheel, waiting to be molded into something, then brought down and recreated if need be. Berlin has a place for everyone because everyone can make their own place in it, and never feel in want of something (unless what you want is mountains).
Write briefly about one of your courses that left a lasting impression on you.
I was most surprised by the 3rd semester core course "Renaissance Florence," mostly because going in, I knew it was a course that would be largely focused on critical engagement with art. I had taken such art courses for many years in middle and high school, but never could understand the science behind the theory, movements and critique. The basics of aesthetics and technique I knew about, even if I did not possess them, but the theory always sounded contrived to me.
However, this class was not just artistic interpretation and criticism, in fact it included the history, philosophy, and politics of the Renaissance and early Baroque periods as a central component in the discussion, and it was like a thunderbolt in my brain. I understood the lens through which we were looking at the pieces, it was all a method of communication, not just a way of blinding the monotony of life with spectacular visions carefully crafted by masters. Through the lectures about the predominant scientific theories of the Renaissance, I could understand what was purposeful contortion of figures as part of a statement and what was err. The complexity and comprehensiveness of a course that I thought was just going to be art history completely turned my perspective on the course material inside out.
How do you think the education you receive at Bard College Berlin will help you in the future? What does a liberal arts education mean to you?
I think the type of education we receive at BCB makes us more resilient individuals when it comes to shocks and changes in our environment, intellectually and emotionally. The broad understanding of history and development of civilization will help us contextualize our own work in politics/art/economics/ethics/literature and so make it more powerful and successful than any more narrowly specialized and isolated version could be. Many of these benefits arise from the type of Liberal Arts implemented at BCB. Here the Liberal Arts are a process of creating versatile and empathetic individuals who are able to examine environments effectively and critically while remaining intensely focused on whatever goals they set forth.