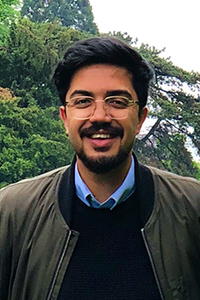 Ahmad Qais Sangarkhail
Favorite quote and why?
''A great mind becomes a great fortune.'' - Seneca
I believe the result of every accomplishment comes from trying and putting your efforts into it. Hence, the consequence of cultivating the mind gives you lifetime happiness.
Why Bard College Berlin?
Over the past two years before I joined Bard College Berlin, I have been working in different environments to try to find a relatable field for my higher education. I have realized that my interests and my mind are made for liberal arts studies. Therefore, I chose BCB.
How would you describe our community in a nutshell?
A community where you feel at home!
You favorite place to study on campus:
The Reading Room of K24 (the residence hall where I currently live).
Are you involved in any student clubs or organizations?
As part of my involvement with LINGO 101, I teach Persian once a week.
Your favorite thing to do in Berlin on the weekends?
Playing ping-pong with friends and attending cultural events in diplomatic missions in Berlin.
What surprised you the most about BCB?
The teaching methods and direct interactions between faculty and students.
Favorite book you read in a class?
Democracy & Its Critics
by Robert Dahl
Write briefly about one of your courses that left a lasting impression on you.
Introduction to Ethics - a very great way of learning about Western philosophers. Their ethical approaches, rationality and theories have made me rethink human life.
Plans after BCB?
As education is very dear to me, I will pursue a Master's degree and work for a year or two in Berlin after I graduate from BCB.
What does a liberal arts education mean to you?
Liberal arts education gives me the ability to think and demonstrate the principles of life and how to act upon them. Through liberal arts education, I can be a better version of myself.