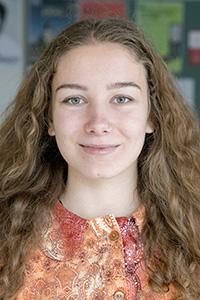 Lejla Zjakic
Where are you from and which program are you enrolled in at Bard College Berlin?
I come from a nice and small country named Bosnia and Herzegovina, and I am enrolled in the Humanities, Arts, and Social Thought program.
What drew you to Bard College Berlin and why did you ultimately decide to enroll as a student?
I was looking for a place that embodies the words vibrant, diverse, and liberal. Besides the open-minded and diverse dimension BCB offered, it was the only place that corresponded to my interest in a wide range of subjects which are not often found in one academic program. I am particularly interested in visual arts and art history, I have been studying visual arts throughout high school and I hoped to learn more about the practical aspect: different art techniques and mediums, but also theoretical: art movements and artists. I saw a chance to incorporate my interest for the art world with social and cultural studies.
What do you like about student life and the community at Bard College Berlin?
I like how you learn a lot outside of the classroom context. The great side of being in an international environment is having the feeling that you are in touch with the entire world. Whether it is your Georgian roommate telling you about the political atmosphere or great food in their country, or reaching out to a student from Brazil to ask about the recent wildfires there, you get to learn and understand the matter through their eyes. Having such a small yet diverse community allows for great inputs of different thoughts, experiences, as well as knowledge: learning a language from your friend through Lingo 101, taking part in "BCB Goes Green" sustainable initiatives, or just playing badminton at the local gym, SPOK. I can say that I am growing in many aspects by being surrounded with such people.
What do you enjoy about living in Berlin?
I enjoy the funky vibe of freedom and acceptance that Berlin has. The city is filled with people from all over the planet with different interests and worldviews, and yet everyone is feeling at home and allowed to be who they want to be, and that kind of corresponds to how diverse the city itself is: with its different districts and complex history.
There is a place for everyone here. I particularly enjoy the art and music scene and how it is given a lot of importance. Culture is very much valued, and there is never a lack of inspiration. Life is also balanced and not fast-moving, and lying next to the Spree all day long is perfectly alright. Some of my favorite activities include visiting art galleries and museums, spending Sundays at flea markets, listening to live music and eating Döner Kebab.
Write briefly about one of your courses that left a lasting impression on you.
Responding to Climate Change is a course I attended in my first semester, taught by faculty
Ramona Mosse
, and it truly left a lasting impression on me. It was mainly a literature-based class tackling the problem of climate change and prompting us to respond to it and take action. We visited the Federal Ministry for the Environment where we were given an interactive lecture about environmental issues by scientists and policy analysts. Our assignment was to respond to climate change through creating a podcast about different matters such as pollution, food waste, recycling etc. in order to raise awareness of those topics. My group was working on the issue of pollution and e-waste, and I got to reach out to people in Berlin - environmental activists and a computer repair technician, to talk to them about their views on pollution. I enjoyed being engaged outside of class and in that way to take action and learn.
How do you think the education you receive at Bard College Berlin will help you in the future? What does a liberal arts education mean to you?
At this point I can't say that I will pursue my career in the art field: and I think that is the liberty of the kind of education I am receiving. It allows me to search for myself in many different fields and widen my interests. A liberal arts education means going beyond the conventional way we think of academics as studying in a specific field in order to pursue a career focused only on that one field. What is important to me is to be aware, not only about a specific matter, but also about what this world has experienced and is experiencing. This forces us to think about matters that surround us: politics, philosophy, ethics, arts, culture, economics, and to realize how all of them are interconnected and crucial in shaping our lives.
I believe that it is difficult or almost impossible to understand the entirety of the ever-changing world we live in, but by studying liberal arts I feel that I am closer to understanding it every day and capable of looking at it from a more critical perspective.