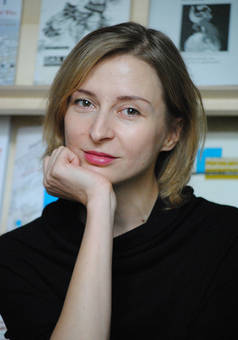 Agata Lisiak
Poland
PhD in Media and Communication Studies
Martin-Luther-Universität Halle-Wittenberg
Agata Lisiak is Migration Studies professor and Academic Director of the Internship Program at Bard College Berlin. She earned an M.A. in International Relations (University of Economics Poznan, 2002), an M.Phil. in Literary Studies (Vrije Universiteit Amsterdam, 2005), and a Dr. Phil. in Media and Communication Studies (University of Halle-Wittenberg, 2009). She has held visiting fellowships at National Sun Yat-sen University, The Open University, and the University of Birmingham. She was a postdoctoral researcher at Humboldt University's Institute of Social Sciences (2013-2017) and a Marie Curie Actions/EURIAS fellow at the Institute of Human Sciences in Vienna (2013-2014). She also worked in the cultural sector as a project coordinator and curator.
Agata works at the intersections of migration studies, urban sociology, and cultural studies. She is particularly interested in everyday urban encounters and imaginaries, feminist theory and practice, and developing creative, multi-sensory, and collaborative methods in urban and migration research. She has written about urban girlhood, migrant motherhood, walking in the city, urban sounds, and cultural memory in post-socialist cities, among many other topics.
Agata leads the OSUN-funded
Transnational Feminism, Solidarity, and Social Justice
project and also writes, hosts, and produces
Spatial Delight
, a podcast about space, politics, and power inspired by geographer Doreen Massey.
Selected academic publications
"Politics of maintenance and care: Rosa Luxemburg's commonplace urban theorizing." City: Analysis of Urban Change, Theory, Action. 2022.
"Urban multiculture and xenophonophobia in London and Berlin." European Journal of Cultural Studies. 2019. (with Les Back and Emma Jackson)
"Poza girl power: dziewczyński opór, kontrpubliczności i prawo do miasta" [Beyond girl power: girl resistance, counterpublics, and the right to the city] Praktyka Teoretyczna 2.32 (2019): 47-63.
"Making something out of nothing: On failure and hope in community activism and research." Studying Diversity, Migration and Urban Multiculture Convivial Tools for Research and Practice. Ed. Mette Louise Berg and Magdalena Nowicka. London: UCL Press, 2019. 141-158. (with Alicja Kaczmarek)
"'A City Coming Into Being': Walking in Berlin with Franz Hessel and Marshall Berman." CITY: Critical analysis of urban trends, culture, theory, policy, action. 2019. (with Reece Cox, Flavia M. Tienes, and Sophia Zbinovsky Braddel; in collaboration with Ford Chandler, Reza Daftarian, Matei Gaginsky, Norë Krasniqi, Anna Liubimova, Zara London-Southern, Mariam Mchedlidze, Lana Praprotnik, Donovan Stewart, Tong Su, Lisa Vogel, and Xinyue Zhang)
"With a Little Help From My Colleagues: Notes on Emotional Support in a Qualitative Longitudinal Research Project." Emotion and the Researcher: Sites, Subjectivities and Relationships. Ed. Dawn Mannay and Tracey Loughran. Emerald Books, 2018: 33-47. (with Łukasz Krzyżowski)
"Like Diamonds in the Sky: Imaginaries of Urban Girlhood." The Routledge Companion to Urban Imaginaries. Eds. Miriam Meissner and Christoph Lindner. London: Routledge, 2018. 248-261.
"A sense of disorder: Urban orientations and migration." Cities of the South/Cities of the North. Eds. Kerry Bystrom, Ashleigh Harris, and Andrew Webber. London: Routledge, 2018. 199-215.
"Mothering and othering in the city: Polish migrants in the UK." Families, Relationships and Societies. 2018.
"Other mothers: Encountering in/visible femininities in migration and urban contexts." Feminist Review 117. 2018.
"Tacit Differences, Ethnicity and Neoliberalism." Gender, Place and Culture. 2017. (with Magdalena Nowicka)
"Making sense of absence. Tsai Ming-liang's cinematic portrayal of cities." CITY: analysis of urban trends, culture, theory, policy, action 19.6 (2015): 837-856.
"Fieldwork and Fashion: Gendered and Classed Performances in Research Sites." Forum: Qualitative Social Research 16 (2), 2015.
"The Ballerina and the Blue Bra: Femininity in Recent Revolutionary Iconography." View: Theories and Practices of Visual Culture 5 (2014). Translation into Portuguese (by Manu Escrita): A Bailarina e o Sutiã Azul: Feminilidade na Iconografia Revolucionária Recente.
"Hip-Hop Representations of Urban Stillness: The Case of Poznan, Poland." CITY: analysis of urban trends, culture, theory, policy, action 18.3 (2014).
Urban Cultures in (Post)Colonial Central Europe. West Lafayette: Purdue University Press, 2010.
"Mapping Migration and Urban Identities in Second Cities." Mapping the World, Culture, and Bordercrossing. Ed. Steven Tötösy de Zepetnek and I-Chun Wang. Kaohsiung: National Sun Yat-sen University, Humanities and Social Sciences Series, 2010. 139-49.
"The Making of (Post)colonial Cities in Central Europe." CLCWeb: Comparative Literature and Culture 12.1 (2010)
Selected academic blog entriesContact
Prof. Dr. Agata Lisiak
Migration Studies
Email: a.lisiak[at]berlin.bard.edu