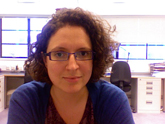 Clare Griffin
Clare Griffin received her PhD from the School of Slavonic and East European Studies, University College London, with a dissertation on medical knowledge at the seventeenth-century Russian palace. She was a Wellcome Trust Research Fellow at the University of Cambridge, before joining the Max Planck Institute for the History of Science, Berlin, in 2015. She is currently writing a book on medical drugs in the early modern Russian empire.
She is also the editor of
H-EarlySlavic
, an academic discussion list focused on Eastern European history before 1725.
Publications
"In Search of an Audience: Popular Pharmacies and the Limits of Literate Medicine in Late Seventeenth-and Early Eighteenth-Century Russia."
Bulletin of the History of Medicine
89.4 (2015): 705-732.
"Russia and early modern European medicine."
Kritika: Explorations in Russian and Eurasian History
12.4 (2011): 967-981.
PERPETUAL MOTION? Transformation and Transition in Central and Eastern Europe & Russia
, co-authored with Bhambry, T., Hjelm, J. T. O., Nicholson, C., & Voronina, O. G., (2011)