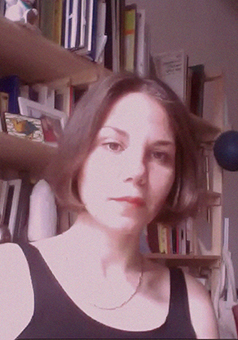 Dafna Maimon
Finland/Israel
MFA
The Sandberg Institute
Dafna Maimon is an artist based in Berlin, whose practice includes short films, performance, online TV shows, texts, sculptures and interventions. In her work she explores and engages with human narratives that challenge stereotypical constructions in order to question the unclear limits of identity, the self and the body. Her projects showcase the economy of affect-based ties as well as materialize through them, casting value on community and collaboration on a grassroots level.
Dafna Maimon has shown her work in institutions and art spaces such as Kunst-Werke (Berlin), PS1 Moma (New York), Centre for Contemporary Arts Uzajdowski Castle (Warsaw), Lilith Performance Studio (Malmö), Based in Berlin, Crikoteka, Tadeusz Kantor Center (Krakau), HAU 2 (Berlin), Moscow Museum of Modern Art, W139 (Amsterdam), 1646 (The Hague), Project Native Informant (London) New Orleans Film Society with Deltaworkers (New Orleans) and Le Magasin (Grenoble).
She is a 2015 artist resident at Künstlerhaus Bethanien (Berlin). In 2014 The Swedish Arts Council granted her a 6-month residency at IASPIS Stockholm. Other residencies include Skowhegan School of Sculpture and Painting and Lower Manhattan Cultural Council New York.
Maimon is a founding member of the artist collective
Baby Darwin
, who was commissioned by ARTE Creative to create the 18-episode online TV show
Fitness For Artists TV
2013-2015. Her video-installation
The Unbearable Presence Of Roots
won the Workspace Zaal 5 Video Art prize from Film House, The Hague in 2010. She has been awarded grants from The Mondriaan Foundation Netherlands, The Swedish Cultural Foundation in Finland, The Finnish Arts Promotion Center and The Finnish Cultural Foundation.
She has lectured and taught at the Royal Institute of Art Stockholm, The European Exchange Academy, Beelitz Heilstätten and New School, New York, Advanced Projects Class.
Maimon studied in Amsterdam and holds a BA from the Gerrit Rietveld Academy and an MFA from The Sandberg Institute.
Contact
Dafna Maimon
Artist
Email: d.maimon[at]berlin.bard.edu