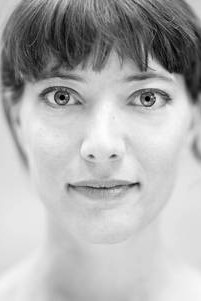 Eva Burghardt
Germany
MA in Theater
Hochschule der Künste Bern
Eva Burghardt is a freelance dancer/performer and choreographer, based in Berlin. She holds an MA in Theater "Scenic Arts Practice" from the Hochschule der Künste, Bern, Switzerland (2010), for which she received the Beatrice and Otto Tschumi scholarship for Masterstudies in
Tanztheater
. She also studied Theater Studies and Art History at the Freie Universität Berlin (2008) and received a diploma in contemporary dance and choreography at SEAD/Salzburg Experimental Academy of Dance (2005). In 2005 she did a residency in New York, studying at the NYU Tisch School of the Arts.
Since 2010 she has worked in a range of different fields including solo performances, opera productions and interdisciplinary collaborations. Her solo
Shut Up and Love Me
toured Switzerland and Germany and was invited to the 20th Tanztage Berlin/Sophiensaele. With
Jim Spastics & Hans Gender
, a Berlin Performance Collective, and the Melbourne based
Triage Live Art Collective
she began working in interdisciplinary performance formats encompassing dance, theatre, visual arts and social live art events.
She has performed in the opera productions
Salome
, directed by Michael Simon at Staatstheater Braunschweig,
Eugen Onegin
, with the Staatsoper at Schiller Theater Berlin and Verdi's
Messa da Requiem
at the Deutsche Oper Berlin, both directed by Achim Freyer.
Since 2002 Eva has been giving classes and workshops in contemporary dance, ballet and improvisation. For the last 6 years she has co-led "Reflexions," a tri-national art project hosted in Niedermiròw, Poland. She has been a guest teacher at Bard College Berlin and at the Pädagogische Hochschule Zentralschweiz, Luzern. She also gives regular classes at TATWERK, a school for theatre, dance and performance in Berlin/Neukölln.
Contact
Eva Burghardt, M.A.
Dance Instructor
Email: e.burghardt[at]berlin.bard.edu