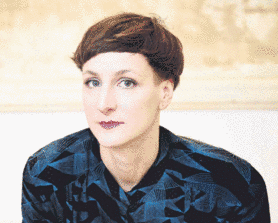 Eva Meyer-Keller
Germany
Dance and Choreography
Amsterdam School for New Development (SNDO)
Eva Meyer-Keller (1972) lives and works in Berlin.
She works at the interface of performance and visual art. Before graduating from the School for New Dance Development (SNDO) in Amsterdam she studied photography and visual art in Berlin (HdK) and London (Central St. Martins and Kings College).
Her artwork is distinctive due to its meticulous attention to detail. Eva often uses everyday objects from her immediate surroundings, things that she finds at home, in the supermarket or in the tool shed. This inevitably lends the work an obsessive, domestic aesthetic. Her working method is marked by a constructive disregard for the imposition of any boundary between visual and performing arts.
Her works include the performances DEATH IS CERTAIN (2002 performed in more than 200 venues around the world), PULLING STRINGS (KunstenFestivaldesArts, Brussels, 2013), the installations VOLKSBALLONS (2004 Palast der Republik, 2013 Centre Pompidou-Metz) und HANDMADE (NGBK Berlin, Bonniers Konsthall Stockholm, Palais de Tokyo Paris).
Eva develops projects alone and in collaboration with other artists, such as Uta Eisenreich, Sybille Müller and Kate McIntosh. She also lends herself as a devisor and performer to other choreographers and works as a dramaturgical advisor/ mentor.
She has worked with Baktruppen, Jérôme Bel, Christine De Smedt/ les Ballets C de la B (9x9), Juan Dominguez, Kate McIntosh and Agnes Meyer-Brandis.
Since 2010 she has ongoing teaching positions at several degree programs across Europe. HZT/UdK in Berlin, DOCH (Dans och Circus Högskolan) and the MA course 'The Autonimous Actor' in Stockholm, ZHdk in Zürich. For the winter semester 2013/14 she was guest professor at the university of Hildesheim.
Contact
Eva Meyer-Keller
Performance
Email: e.meyerkeller[at]berlin.bard.edu