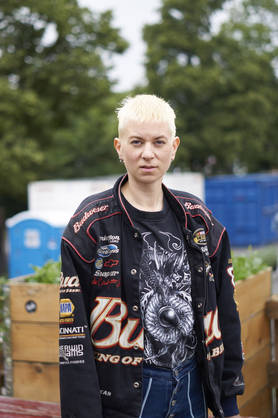 Josefin Arnell
Sweden
MA in Dirty Art, Sandberg Instituut, Amsterdam
Rijksakademie van Beeldende Kunsten, Amsterdam
With video operating as the primary medium, visual artist Josefin Arnell's work extends to performance, installation, objects, poetry or printed media. Floating between aspects of documentary and fiction she methodically navigates the space between exuberance and self-exploitation. By choosing to work with non-actors, she is capturing a rawness that reflects an emotional landscape exploring unattainable desires, perfectionism and control. The teenage girl, the horse and the mother are recurring characters alongside clumsy allegories in conflicts of human conditions or environmental catastrophes.
In addition to her solo work, Josefin is involved in multiple collaborations and self initiatives focusing on feminism practices. These include performance productions or critical and supportive conversation events for cultural practitioners. One of the most notable collaborations is HellFun aka Josefin Arnell & Max Göran. HellFun makes video and performances and "prefers to be brave and pathetic rather than drowning in shame." Together with artist Natasja Loutchko, Josefin runs HorseGirl, a production platform exploring intimacy and sisterhood. In 2018 HorseGirl started developing their first feature film.
Arnell's work has been shown at the International Documentary Film Festival Amsterdam (IDFA), Kunsthalle Münster (Münster), Palais de Tokyo (Paris), Beursschouwburg (Brussels), Contemporary Art Center Vilnius (Vilnius), Moscow International Biennale for Young Art 2018 (Moscow). She was awarded the first prize in the frame of the Theodora Niemeijer Prijs 2018 at Van Abbe Museum, Eindhoven for emerging women artists in the Netherlands. In 2015/2016 she participated in the two-year residency program Rijksakademie van Beeldende Kunsten (Amsterdam). She holds an MA in Dirty Art from Sandberg Instituut (Amsterdam).
Contact
Josefin Arnell, M.A.
Visual Art
Email: j.arnell[at]berlin.bard.edu