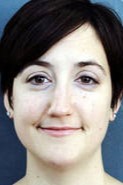 Julia Hart
USA
BA in German Literature and Theater Studies, Yale University
BA in Theater Directing, Hochschule für Musik und Theater, Hamburg
Julia Hart is an American theater director living in Hamburg. After graduating from Yale University in 2003 with a B.A. in German Literature and Theater Studies, Julia directed her first shows in the former East Germany with a fellowship from the Robert Bosch Foundation. She spent a year working on Off-Broadway theater productions as a choreographer and assistant director until she was awarded a Fulbright Grant in 2005 to research theater post-reunification. After working at the Theatertreffen Festival, Maxim Gorki Theater, Schaubühne am Lehniner Platz, Julia began the directing program at the Hamburg University of Music and Theater in 2008. Since then she has directed plays in English and German, ranging from contemporary American playwrights to the German classics and has received three scholarships from the DAAD for her achievements. Her work has been shown at Kampnagel, Schauspielhaus Hamburg Malersaal and Rangfoyer, Stadttheater Bremerhaven, and the Lichthof Theater Hamburg.
Since 2013 Julia has been developing performances and plays based on documentary material. She has been awarded grants from the Hamburg Kulturbehörde to create three original productions at the Lichthof Theater in Hamburg. Her work has also been shown at the Hamburg's festival for the independent arts' sector Hauptsache Frei.
Julia has also been working with Greenpeace Germany since the fall of 2017 to develop performances in the public space to bring attention to the air pollution in Germany caused by the auto industry.
Her upcoming show "DER HAMBURGER KODEX" (May 2018) is an interdisciplinary performance investigating how to stage philosophical thoughts while exploring ways of interacting with audiences of all ages.
Further links
Personal website
Contact
Julia Hart
Theatre Studies
Email: j.hart[at]berlin.bard.edu