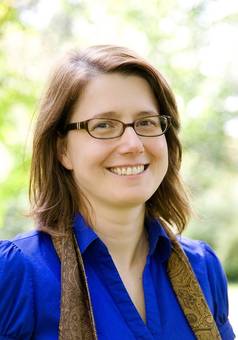 Marcela K. Perett
Czech Republic/USA
PhD in Medieval History
The University of Notre Dame
Marcela K. Perett earned a BA in English and Environmental Economics from Middlebury College in 1999, an MTS (Masters in Theological Studies) in Church History from the University of Notre Dame in 2003, and a PhD in Medieval History from the Medieval Institute at the University of Notre Dame in 2009. Awards supporting her research include the Solmsen Fellowship from the Institute for Research in the Humanities at the University of Wisconsin-Madison, and Edward Sorin Fellowship from the University of Notre Dame.
Research Interests
In every age and every society, there are people who consider the mainstream culture to be sick, corrupt and hopeless and who look for ways to disengage from it. Perett's research revolves around the writings of such people. She focuses on the late fourteenth and early fifteenth century Bohemia and England, a time when Christianity was a universal religion and dissent (social, political, cultural) took on religious dimensions. Her research poses questions about the ways in which ordinary people, for the most part with very little formal education, expressed religious dissent and what attracted them to radicalized modes of religion. She also studies propaganda (religious and other) and Christian radicalism and fundamentalism.
Perett has written articles/book chapters on the role of vernacular songs in religious propaganda of the Hussite movement, on the influence of John Wyclif's Eucharistic writings in Bohemia, and on the shift to writing theological treatises in the vernacular. She is currently preparing two articles, one about Jan Hus and his role as a public intellectual, and the second about the Eucharist in the Lollard and Hussite movements. She has recently finished a book-length study of the vernacular writings by Hussite reformers, entitled
Vernacular Preachers, Fractious Partisans, and Rebellious Religion: The Historical Dynamics of the Hussite Movements in Late-medieval Prague
.
A historian trained in the interdisciplinary context of Notre Dame's Medieval Institute and a close reader by instinct, Marcela Perett find herself continually interested in the ways in which methodologies from other disciplines might illumine her work, both as a writer and as a teacher.
Teaching
At Bard College Berlin, she has taught a variety of courses. Since her coming to Bard College Berlin, she has served as the coordinator of the first year Core Class called "The Forms of Love," which introduces students to the literature and culture of the medieval period through writings about love. She has also taught a number of seminars, on "Imperialism: Ancient and Modern," "Christianity and the Church," and "Islam and the West." She regularly supervises students' senior theses, most recently on John of Damascus and icons, and has taught the Senior Research Colloquium for thesis-writers.