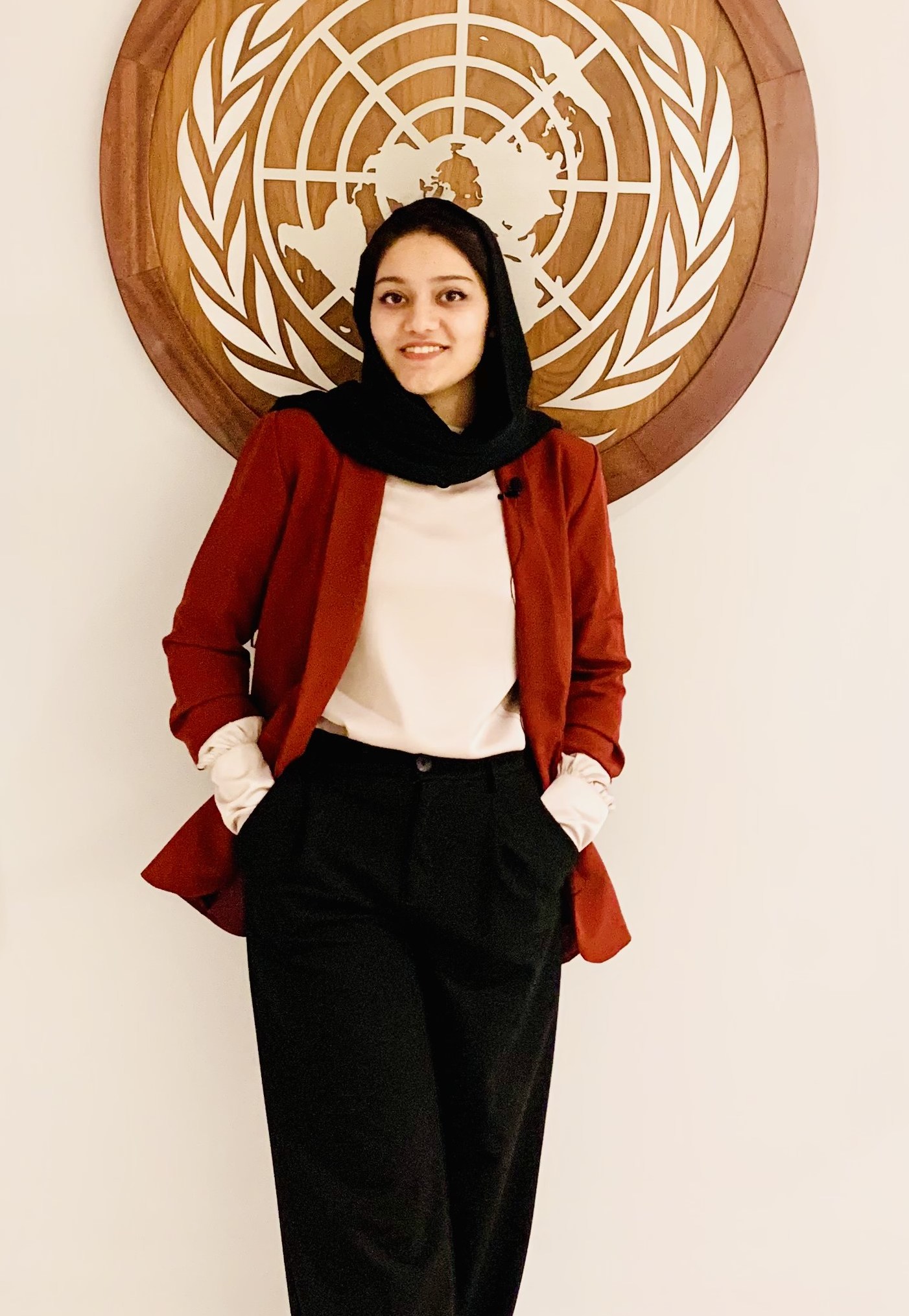 Aisha Khurram
Afghanistan
BA in Humanities, the Arts, and Social Thought
Concentration: Ethics and Politics
What drew you to Bard College Berlin and why did you ultimately decide to enroll as a student?
Just one year ago, I was studying law and political science at Kabul University, and I was in my last semester of my bachelor's degree working on my thesis, when the Afghan government collapsed. I still remember the day when I had to leave my home. I left within minutes with no documents at hand that could prove I have studied for four years but couldn't graduate at the last moment. And then there I was in a new country, starting my life from scratch. I didn't know how long it would take for me to get my legal documents so I could get my life started, but even if I had my documents, it was very unlikely for me to get back to class due to the language barrier in Germany. One day, one of my friends from the
Open Society University Network
(OSUN) community informed me about the
Bard College scholarships for Afghan students
, which I didn't know existed despite seeking and searching for months. When I applied for the scholarship at Bard College Berlin, I was not only admitted to the college, but my former incomplete education was also recognized and most of my credits were transferred to my current degree. I decided to join BCB not only because it is a safe haven for young students, who have been stripped of their basic human rights, but also for the essential values that are ingrained in its modern method of education.
What do you study at Bard College Berlin?
When I joined BCB, I decided to concentrate on
Ethics and Politics
for two main reasons. First, a professional reason: my educational background and knowledge in international law and foreign relations. And second, a personal reason: the combination of the two words "ethics" and "politics". At first the combination might sound strange to anyone coming across these two terms. However, I started to wonder why ethics shouldn't be an integral part of a political science degree in
every
institution. Why shouldn't we normalize co-dependency, indispensability and inter-connectivity of these two fields rather than normalize the Machiavellian definition of politics. Joining Bard College Berlin made me question the ideas and concepts I never thought were questionable; it persuaded me to express my opinion about them, but at the end it all left me with no finite answer and thousands of possibilities to explore.
What do you like about campus life at Bard College Berlin?
The BCB environment with its vibrantly diverse, engaging, politically conscious and civically engaged students has turned our campus life into a home for those of us who are constantly seeking a safe haven, where we can employ our abilities to leave in impact.
What do you enjoy about living in Berlin?
Berlin is living and breathing history. Every corner of every street reminds me of the resilience of this place. Berlin has turned into a home in exile for thousands of people around the world, who need a sanctuary not only for their physical safety, but also for their radically liberating thoughts and beliefs. What I like most about Berlin is that it has no shape, it cannot be defined, and therefore cannot be limited, and that's exactly what makes it beautiful, diverse and welcoming.
Write briefly about one of your courses that left a lasting impression on you.
I have had many interesting courses at BCB such as "
Forms of Love
", "
Human Rights Advocacy
" and "
Feminist Science and Technology
." However, one of the most transforming courses for me during my time at BCB has been the "
Greek Civilization
"
Core class
. This course has been a great introduction not only to the historically significant and transforming Greek philosophy but also to the core philosophy of Bard's existence as a Liberal Arts college. In this course we face Plato's
Republic
and discuss his account of Socrates' zealous pursuit of truth and knowledge. I believe nothing is more transformative than having a safe space to discuss and debate universally normalized conventions and concepts. The Greek civilization course not only quenches our thirst for the sophisticated yet philosophically meaningful texts from ancient times, but it also takes us back into the development journey of the most significant concepts of our modern day.
How are you civically engaged on campus or beyond?
I work as an Afghanistan Project Assistant with
Kinderberg International
and voluntarily work with
Tertiary Refugee Student Network
. I was a
UN Youth Delegate
and have also started my own
initiative
with other delegates in order to make education accessible for students in times of humanitarian crises, especially in Afghanistan. At BCB I have volunteered with Ukrainian refugee relief efforts and have been involved with the
Real Talk
discussions.
What does a liberal arts education mean to you? How do you think the education you received at Bard College Berlin will help you in the future?
Studying Liberal Arts is a radically transforming journey for those who seek to acquire the necessary knowledge for leading an impactful life. Liberal Arts exposed me to the realm of unexplored possibilities that lie beyond the illusions of our ordinary, mundane and normalized beliefs, which knowingly or unknowingly shape our lives today. Everyday in our courses we face, debate and dissect the most essential questions that form the basis of our social and individual existence. Liberal Arts is not only the in-depth study of a specific major but it also exposes the students to a range of knowledge in many fields within the social sciences, arts and humanities in general, helping us to explore the objective realities with a critical yet human lens of new possibilities. As a Liberal Arts student, I have been able to develop and polish my skills in writing, speaking and thinking critically which has greatly improved my performance as a human rights advocate.